Italy's Serie A behind top leagues - Alessandro Nesta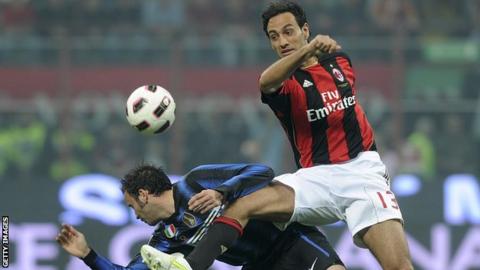 Former Italy international central defender Alessandro Nesta says Serie A has fallen behind the leagues in Spain, Germany and England in quality.
The 37-year-old, now at MLS side Montreal Impact, won the Scudetto three times in his career with Lazio and AC Milan but says the reason for Serie A's weakness is a lack of money.
"There's no money in Italy at the moment and the best players go to play in other leagues - Spain, England, Germany. Italy's going down," he told the BBC's World Football programme.
Nesta, who won the World Cup in 2006, was pleasantly surprised by Juventus's signing of Carlos Tevez from Manchester City for £12m.
"It's a very good signing. A player like Tevez, I didn't think would play in Serie A now. Juventus did a good job," he said.
Nesta wants to go into coaching when he retires at the end of the Major League Soccer season.
He has given his backing to his former manager at Milan, Carlo Ancelotti, after he took over at Real Madrid.
"He is the best coach for Madrid. Madrid is a difficult place to coach. There's a lot of pressure and Ancelotti is very good when he's under pressure.
"(At AC Milan, Silvio) Berlusconi and (Adriano) Galliani, all the time, wanted the best for the team. The pressure was very, very hard but Carlo Ancelotti, everyday, had a smile. He was perfect."