Fulham: Owner Shahid Khan wants to take Fulham to 'next level'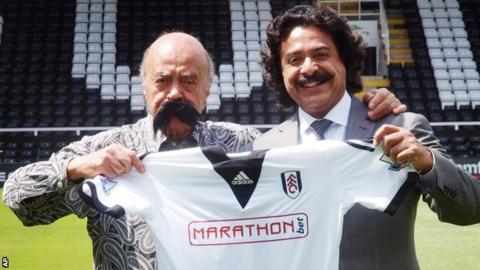 Fulham's new owner Shahid Khan hopes to build on the work of previous owner Mohamed Al Fayed.
Al Fayed, 84, bought the Cottagers in 1997 and turned them into Premier League regulars following their promotion to the top flight in 2001.
Billionaire Khan, 62, has now purchased the club from Al Fayed and he said: "It's a very special place. This is the perfect club for me at a perfect time.
"It's the passing of the baton, taking it to the next level."
Pakistan-born Khan moved to the United States aged 16 and made his fortune as a car-parts entrepreneur.
He became owner of NFL side Jacksonville Jaguars in December 2011 and is the sixth American owner of a Premier League club.
The Jaguars are scheduled to play one regular-season NFL "home" game at Wembley each year from 2013 to 2016, starting in October against the San Francisco 49ers.
"These are true distinct clubs that will operate differently and independently - but there is a huge amount of synergy," explained Khan.
He declined to answer how much the deal to buy Fulham cost, stating: "That is highly confidential."
But Khan said: "I think it [what Al Fayed has done] is incredible.
"The man rescued Fulham [Al Fayed took control at Craven Cottage with the club in the third tier] and had a great vision, which he has shared with me. I think it's very, very important to all the Fulham fans."
The Cottagers reached the Europa League final under former manager Roy Hodgson in May 2010, when they were beaten by Atletico Madrid.
They are managed by Martin Jol and finished 12th in the top flight last season.
"There's a great leadership here and I have a lot to learn." added Khan. "But I'll give the team all the support it needs to be successful on the pitch.
"We have to respect history. I am going to listen to the fans and decide. But we have to make sure it's sustainable."