Garry Monk hands Swansea captaincy to Ashley Williams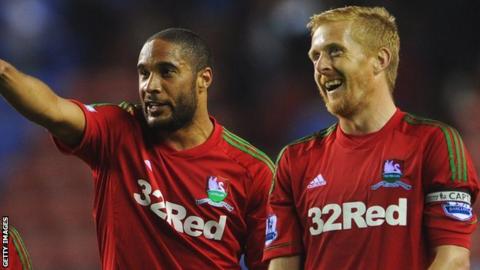 Swansea City stalwart Garry Monk intends to hand over the team captaincy to fellow defender Ashley Williams.
Monk, 34, continues as club captain, but Williams leads the Swans on the pitch even if they play together.
Williams and Chico Flores were Swansea's first-choice centre back pairing last season and Monk was limited to 15 appearances, with four of those coming in the Capital One Cup.
"I just feel it's the right time now... it is a difficult decision," Monk said.
"It's probably been one of my proudest things - if not the proudest thing - I've had to do with Swansea City.
"I know we've had promotions and cups, but it's definitely up there to have captained this club for so long. It's been a real honour.
"If the manager [Michael Laudrup] thinks I'm wrong then I'll have to listen to the manager won't I? but that's my gut feeling anyway."
Former Southampton defender Monk is about to embark on his 10th season with the Welsh club and has featured in all four divisions for the Swans.
He has been the club captain since 2006 and Monk signed a one-year contract extension in February, 2013 that will keep him at the Liberty Stadium until the end of the 2014-15 season.
"I'm still going to be club captain but - this is how I personally look at it, I haven't spoken to the manager or Ash himself - I just feel from my experience as captain, that should be the person [Williams]," Monk added.
"The continuity should be there, someone that's been there week in week out, which has been Ashley.
"Obviously when I've not played he wears the captain's armband; I just feel that should continue even when I am playing.
"It's a decision from myself, things won't change, apart from the armband.
"Off the pitch I'll be the same, even on the pitch when I'm playing I'll still be a leader and it's just a case of I think Ash deserves to lead the team out week after week.
"My duties as club captain won't change.
"I'll still be doing the stuff off the pitch with the boys and in the community representing the club."
Although he is no longer first choice for Swansea, Monk believes there will still be plenty of opportunities for him in the coming season - especially with the added demands of competing in the Europa League.
"I proved last season and the season before, I haven't played as regularly as I would have liked, but I've still contributed a number of games and when I've played I think I've done pretty well," Monk said.
"That's all I can ask of myself, make sure that I'm fit, ready, look after myself and when called upon to do it right.
"I've done that so far, so I can't have any complaints with myself.
"If I couldn't compete at this level, if I was slacking off and feeling physically not right then I'd hold my hand up, I'm honest enough to do that.
"But I think I've proved the last couple of seasons in the Premiership that when I've played, I've more than competed with some of the top strikers.
"I probably feel even stronger this pre-season, I feel sharp, I've looked after myself through the summer and I feel fit."
Swansea completed their pre-season tour of the Netherlands with a 1-0 win over Den Haag on Saturday, which saw