Steven Gerrard: Liverpool captain signs new two-year contract

Last updated on .From the section Football591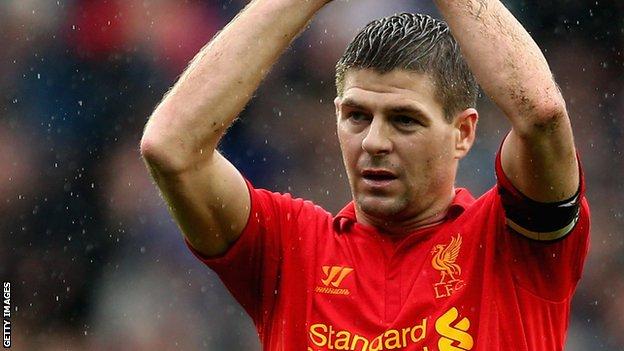 Liverpool captain Steven Gerrard has signed a new two-year contract.
Talks between Gerrard's agents and Liverpool managing director Ian Ayre had been ongoing since the end of last season and the England captain will now stay at Anfield past his 35th birthday.
His previous deal had been due to expire at the end of next season but manager Brendan Rodgers made the future of the 33-year-old a priority.
Gerrard, who made his Liverpool debut in 1998, said: "It's great news."
The new contract will ensure he spends his career with one club.
Gerrard told the club's website: "I think everyone knows what it means to me. I've been here that long and so to extend, it's a big day for me and I'm really happy for myself and my family.
"It lets me know the club thinks an awful lot of me and want me here.
"I'm glad it's all done and it's happened at the right time before the season, so I can just focus on playing as well as I can."
Liverpool are preparing for a pre-season tour of Australia and Asia.
Ayre said: "It's fantastic for everyone - the club, Steven and the fans.
"He is - and always has been - such a big part of Liverpool Football Club. Particularly in this day and age, it's rather unique to find a local player who has given his whole career to his club.
"We've said what we'll do in two years' time is review it again and see how happy Steven is. We seem to always be happy with him, so hopefully we'll just continue in that vein."
Gerrard started the first 36 of the Reds' Premier League games last season before missing the final two after bringing forward a shoulder operation.
He made his Liverpool debut on 29 November 1998 in a Premier League match against Blackburn Rovers.
Succeeding Sami Hyypia as club captain in 2003, Gerrard was the Reds' top goalscorer in 2004-05, 2005-06 and 2008-09, and has scored 159 goals in 630 senior appearances for the club.
His honours include one Champions League win, one Uefa Cup, two FA Cups, three League Cups, two Community Shields and two Super Cups.
Gerrard came close to joining Chelsea in 2005, requesting a transfer before performing a U-turn and signing a new deal with the Reds.
Former Liverpool manager Kenny Dalglish said in 2012: "In this day and age there's not many people who go through their football career and represent just one club, especially people with quality like Steven.
"If you're happy where you're playing, you're enjoying what you're doing and you enjoy the football club I don't see any reason to move, and it's fantastic for us that he hasn't."