Zamalek to face Al Ahly in Champions League on 24 July
Last updated on .From the section Football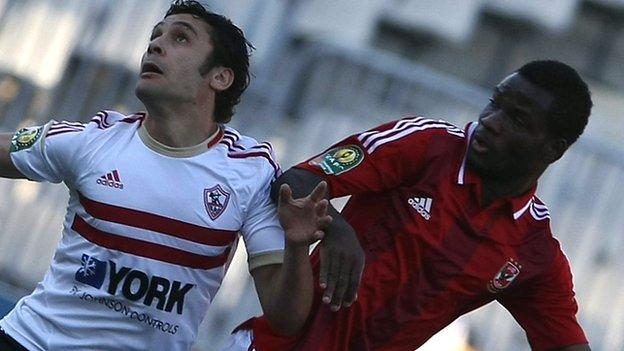 Egyptian rivals Zamalek and Al Ahly will play their rearranged and relocated Champions League tie on Wednesday 24 July.
The Confederation of African Football (Caf) confirmed to BBC Sport the new date for the Group A match, which is part of the opening round of fixtures for the competition in the new season.
Following a switch of venue from Cairo to the Red Sea resort of El Gouna because of security fears, the tie was set to be played on Sunday 21 July.
But the Egyptian Football Association (EFA) was successful in requesting an alternative date for "marketing reasons".
The game will be played at 1430 GMT because the stadium does not have adequate floodlights - this will make the hot daytime conditions even more difficult for those Muslim players who are fasting throughout Ramadan.
On Monday, it was confirmed that the EFA's request to switch the venue had been agreed to by Caf.
The decision was taken to avoid any unrest in the capital and the Mediterranean city of Alexandria as the fallout from the the removal of Mohammed Morsi as Egypt's president continues.
Prolonged political instability and violence in Egypt has caused major disruption to domestic football, including the premature end of the league season.
And Wednesday's match will be staged without fans in attendance.
Meanwhile, Cameroonian club Coton Sport will not be allowed to play in the African Champions League this weekend because the country's football federation is still suspended for government interference.
They had been due to host Ivorian side Sewe San Pedro in the first round of matches in Group B.
Football's world governing body Fifa said it was "following closely'' the situation in Cameroon but conditions had not yet been met for its suspension to be lifted after the country was banned on 4 July.