Cesc Fabregas: Manchester United make £25m bid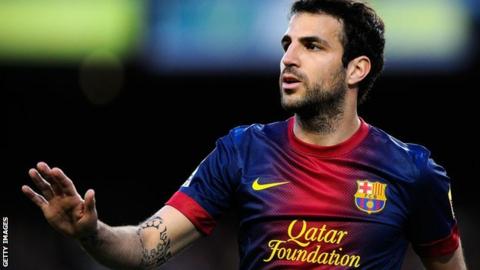 Manchester United have bid £25m for Barcelona's ex-Arsenal midfielder Cesc Fabregas but the Gunners have first refusal on him at the same price.
United's offer is being considered but is understood to be below the Spanish club's valuation of the player.
While Fabregas is not pushing for a move, it is believed he is open to a return to England.
The 26-year-old will be guided by whether Barcelona are prepared to accept an offer for him.
Fabregas came through the Spanish club's La Masia academy before Arsenal signed him as a 16-year-old in 2003.
He developed as one of the London club's key players under manager Arsene Wenger before becoming Arsenal captain in November 2008.
The Spain international spent eight years with the Gunners, playing 303 games and scoring 57 goals.
However, he returned to the Nou Camp when he signed a five-year deal with Barcelona in a £25.4m move in August 2011.
He has since helped the Catalan club win the Copa del Rey in 2011-12 and La Liga in 2012-13.
Fabregas has played 96 times in two seasons with Barcelona, including 60 league games, but has rarely featured in his preferred midfield role, with Xavi, 33, and Andres Iniesta, 29, ahead of him.
Fabregas has made 83 appearances for Spain, winning the 2010 World Cup and the European Championship twice.