Ronaldinho on course for Pep Guardiola reunion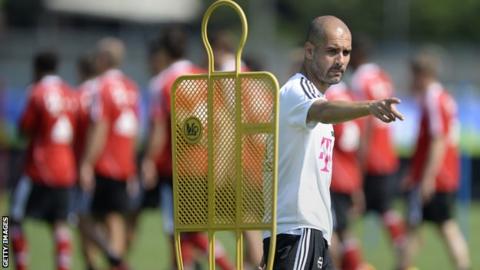 We are closing in on a fascinating end-of-year reunion.
Back in 2008, Pep Guardiola took over as coach of Barcelona. One of his first decisions was to offload Ronaldinho - at 28, theoretically at the peak of his powers, but seemingly on the downward slope.
Five years on, Guardiola is one of the most respected names in the game. His Barcelona side set such immaculate standards that, after taking a year out, he could choose his next job from a position of strength. He now starts his spell with Bayern Munich, the European champions.
Ronaldinho's career over this last five years has justified Guardiola's 2008 verdict - his best days are clearly behind him. There have been times when he was waddled through games like a long retired ex-pro who has turned up for a charity match.
Then again, there have been occasional moments when he reminds you that he really was born with an exceptional talent - the way that he can kill a ball as if a suction pad is stuck to his foot, or a defence-splitting pass that few others could have seen, let alone delivered.
In the past 12 months with Atletico Mineiro, he has played his best football since those Barcelona glory days. And now his team are just a two-legged final away from being crowned champions of South America - thus setting up the prospect of a meeting with Guardiola in December's World Club Cup.
First, of course, Atletico have to win their continental title. It is not a foregone conclusion. Their opponents in the Copa Libertadores decider are Olimpia of Paraguay, a team with tradition, resilience and strike power.
Three times champions, Olimpia are known as the cup kings, and a packed crowd in Asuncion will roar them on in the quest to build a first-leg lead on Wednesday so they can be crowned for a fourth time.
Like all Paraguayan sides, their marking can be rugged and disciplined. And an average in the competition of nearly two goals-a-game shows that they pose a threat.
Striker Freddy Bareiro is mobile and dangerous, and behind him Uruguayan Juan Manuel Salgueiro is cunning and skilful. When they need a goal, on comes big Argentine centre forward Juan Carlos Ferreyra to add some penalty-area presence.
Coached by club legend Ever Hugo Almeida, they can switch schemes and change approaches as the situations demand. Before the competition Olimpia were not considered among the leading contenders, but they are worthy finalists.
Atletico, though, are clear favourites. These days Brazilian clubs have a massive financial advantage over their continental rivals (which means, on balance, that Brazil's performance in this campaign has been very disappointing). In this case, the disparity is all the wider because Olimpia are mired in administrative crisis - players' salaries are months in arrears.
During the pause for the Confederations Cup, an offer came in from Mexico for Richard Ortiz, who was Olimpia's outstanding player. Desperate for cash, the club were forced to sell.
Atletico, meanwhile, boast a strong squad and a well defined, attractive team - the hallmark of coach Cuca. The magic lies in the mix. The vision and passing range of Ronaldinho is surrounded by pace - especially that of young winger Bernard.
The two of them form one force, the veteran stroking the ball into the gaps for the youngster - with the speed and the intelligence to know when to use it - racing through the opposing defence.
Centre forward Jo, back on the rails after hitting the big time too early, provides a threat in the area and ties up the defence, creating space for the breaks from deep of Bernard and of Diego Tardelli, a talented support striker.
For over a year now Atletico have been playing the most watchable football in Brazil and perhaps in this cup run they also have the gods of football on their side. Without a major title in some time, fate could be lending a hand to bring a long wait to an end.
After breezing through the group stage, Atletico looked in all kinds of trouble in their first knock out game. They were 1-0 down early away to compatriots Sao Paulo, who lost striker Aloisio to injury after just 11 minutes.
Young replacement Ademilson missed chance after chance. It could easily have been 4-0 or 5-0 by the half hour - when Sao Paulo's vastly experienced centre-back Lucio stupidly got himself sent off. The entire tone of the game changed, and Atletico romped to a 6-2 aggregate win.
In the quarter-final they faced Tijuana of Mexico. Atletico had been short of their best in both games, but, at home in Belo Horizonte, they went into second-leg stoppage time ahead on away goals. Then disaster struck when nervous defensive lapses handed Tijuana a penalty.
If converted, Atletico were out. Victor dived right, burly striker Duvier Riascos fired it down the middle but the keeper was just able to block with his legs.
The semi-final was no less tense. Atletico were outplayed in Argentina by an exuberant Newell's Old Boys and lost 2-0.
In last week's second leg they pulled one back early - through the Ronaldinho-Bernard connection again - but the longer the game went on, the less likely seemed the chance of a second. Inside the last 20 minutes, many in the stadium were already in tears.
A partial floodlight failure came to their aid. An 11th minute hold-up gave coach Cuca a chance to rethink and for the rhythm of the game to change. He brought on two substitutes - one of them, Guilherme, fired in a second, and the tie went to penalties.
Twice Atletico players missed the target. Both times, Newell's also blasted wide. After four consecutive missed penalties, Ronaldinho stepped up and made it look easy, and then Victor came up with more heroics to block the shot from Maxi Rodriguez.
And so it is Atletico against Olimpia in the Libertadores final - and the chance of Ronaldinho against Guardiola in December.
Questions on South American football to vickerycolumn@hotmail.com, and I'll pick out a couple for next week.
From last week's postbag:
Q. Newell´s Old Boys have been the success story in Argentine football over the past year, culminating in them winning the latest Championship and reaching the semi finals of the Copa Libertadores.
Their manager Gerardo Martino has brought a style of football that has been a breath of fresh air. He had relative success as manager of the Paraguay national team.
Do you think he is the heir apparent to Alejandro Sabella as coach of the Argentine national team?
Alan Moir
A. He's certainly a very strong candidate. The fact that he did so well with Paraguay (2010 World Cup quarter finals, 2011 Copa America final) gives him terrific international experience as well.
I'd imagine the job will be up for grabs after the World Cup - Sabella is finding it a strain and is probably unlikely to stay on. But Martino is not the only candidate as Diego Simeone might also fancy it.
Q. My question is about Alex Aguinaga. In Ecuador, he's somewhere between a legend and a demi-god and everyone talks as if he could have walked into any team in the world, but that he was far too loyal to Necaxa in Mexico and therefore never went to Europe - despite interest from AC Milan and Real Madrid.
Obviously we'll never know what might have been, and it's a bit of a glib question, but was he as good as all that? My only memory of him was his role in qualification and the World Cup in 2002.
Nate Aspray
A. You only saw him when he was already past his best. At his peak he was a wonderful playmaker, creative, skilful and with a warrior spirit that meant he was never a luxury player. We can only speculate, but I think he could have progressed in top-class European football. During his time though, there was no market for Ecuadorian players in Europe - Luis Antonio Valencia's success in England has been a game changer in that respect.