Malawi coach Tom Saintfiet sure of World Cup success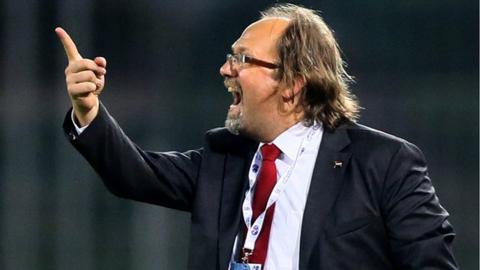 Malawi coach Tom Saintfiet says he is 100% sure Malawi will qualify for next year's World Cup in Brazil.
The Belgian was appointed at the start of July on a two-month deal, tasked with steering The Flames past Nigeria in their final Group F qualifier on 6 September - a win would put them through to the play-offs.
And the 40-year-old is confident he can get the required result.
He told BBC Sport: "I am 100% sure that Malawi can go to the World Cup.
"What Senegal, Togo, Trinidad & Tobago, Jamaica and North Korea have shown in the past is that smaller football nations can make it to the finals in the right moment, at the right time.
"Now is the right moment for Malawi."
Saintfiet's strong belief comes even though his path is blocked by the reigning African champions, who lead the group by two points, and despite Malawi's confidence-sapping penalty shoot-out defeat by Zimbabwe in the Cosafa Cup quarter-finals last weekend.
In addition, Saintfiet has had to face criticism over a bonus he has been promised should he be successful.
He will reportedly receive US$10,000 if the Flames beat Nigeria - and among those to voice their unhappiness with the deal is Malawi captain Joseph Kamwendo.
However, Saintfiet insists "I am not here for the money".
"In the last weeks and months I have had offers from clubs in South Africa and Kenya and in Tunisia and last Monday, I got an offer from Lebanon. Some people are talking about my bonus but if I had taken the job in Lebanon I would (have earned) in the next two weeks four times this bonus.
"So if I was coming to Malawi for the bonus I would be very stupid - I would have signed somewhere else if money was important for me."