From non-league football to Thailand goal king
By Richard Conway
BBC Sport in Bangkok
Last updated on .From the section Football
It was in 1978, during a pre-season tour of China, that West Bromwich Albion midfielder John Trewick entered football folklore.
Invited to reflect on a visit to the country's landmark Great Wall, Trewick said it was impressive but quipped: "Once you've seen one wall, you've seen them all."
It is estimated that fewer than 300 British professionals are currently playing their football abroad and, rightly or wrongly, Trewick's tongue-in-cheek comment encapsulates a perception that British footballers often lack the will or curiosity to play and live overseas.
There have, of course, been notable exceptions.
David Beckham's spells with Real Madrid, AC Milan, LA Galaxy and Paris St-Germain, Paul Gascoigne's time with Lazio, Laurie Cunningham's groundbreaking move to Real Madrid and Gary Lineker's journey to Spain and Japan demonstrates that Brits can and will travel.
Yorkshireman Lee Tuck has taken a different path, though.
While Beckham et al all made their moves as established stars, Tuck faced a very different scenario.
Struggling to make an impact in England and following a spell with non-league Farsley Celtic, he arrived in Thailand in 2010 after taking up a friend's invitation to play for Nakhon Pathom FC.
A move to Thailand's capital to play for Bangkok FC - in the country's second tier - soon followed and the Huddersfield man's adventurous spirit is being rewarded in a big way.
Since signing for Bangkok FC, he has scored 45 goals in 60 appearances, winning Thailand's Golden Boot last season.
Meeting me at a Muay Thai boxing arena - Thailand's ancient martial art and a national obsession here - Tuck reflected on leaving Britain at the age of 21.
"I always thought I'd like to go to Thailand," he said. "You hear a lot of good things about it - the beaches and the weather.
"I spoke to a friend who was playing here and he told me all about it, so I thought I'd give it a go. The football was the main thing obviously, but I'd always wanted to live abroad. So I came over and I've never looked back."
He admits he did think long and hard before moving, with family members initially wary of him going to a country where he didn't speak the language and that was culturally alien to his Yorkshire roots.
"I was excited about a lot of things before I moved here, but food wasn't on that list," he added. "I didn't know what to expect and I was quite a picky eater back in England.
"But I adapted and now every time I go home to Britain I miss Thai food. Everything is so fresh and healthy here."
He even tried fried scorpion on the recommendation of team-mates.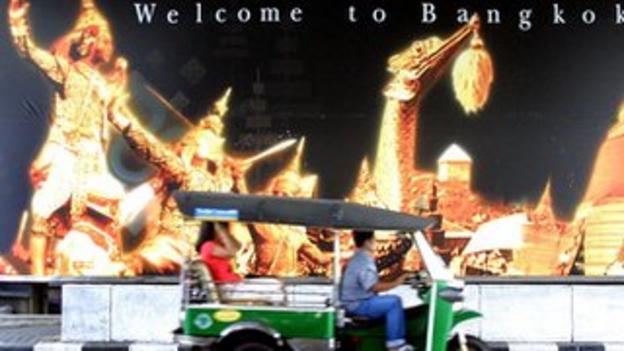 "They were all telling me to try it so I ended up giving it a go," said Tuck. "It didn't taste of much. You don't get that in Huddersfield, just fish and chips."
It is also a very new experience on the pitch for a player brought up amongst the passion and tribalism of the English game.
As we talk, two Muay Thai fighters prepare to battle each another in the humid and dimly-lit stadium.
The crowd inside hush as both competitors perform the wai khru - a traditional ritual which involves the fighters circling the ring three times before bowing and kneeling as a sign of respect, then bowing again to Buddha to ask for protection and an honourable fight.
The civility and religious practices that are engrained in Thai society are mirrored in Muay Thai - and it seems football is no different.
"The home fans chant the opposition team's name at the end of the match and the away team players go up to them to pay respect," says Tuck.
"I was very surprised when I first came, but it's great to see that. All the players shake hands after the game and show the same respect. It's a great culture."
Playing in Thailand's equivalent of the Championship, Tuck is keen to use his time here as a springboard to further success.
Watching Manchester United play - and lose - to the Singha All-Stars last week, he was asked to pose for photographs by local fans he met at Thailand's national stadium.
"I'm shocked and very flattered by how big my name has got," Tuck told me and urged others back home to follow his lead.
"It's different for every player, but there are a lot of great opportunities outside of England," he said.
"I was playing in the lower leagues of English football and now I've worked hard and made a name myself here. The future's positive."