David Villa reveals England interest before Atletico Madrid deal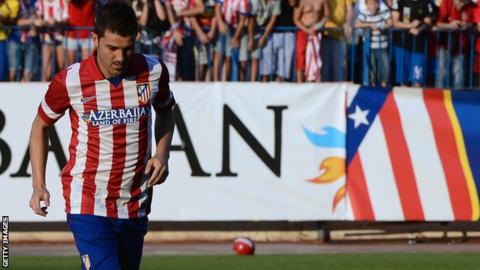 Former Barcelona striker David Villa says he was ready to move to the Premier League this summer, before Atletico Madrid made a bid to sign him.
Villa, 31, joined Atletico in an initial £1.8m deal, rising to £4.4m if he sees out his three-year contract.
Both Arsenal and Tottenham had been linked with the Spain international.
"We had a move to the Premier [League] in mind but then Atleti appeared and within three days all my personal terms had been agreed," Villa said.
"From a career point of view, they weren't lacking anything. They finished third in La Liga and will play in the Champions League. They beat Real Madrid to win the Copa del Rey.
"Starting from now, the best club in the world for me is Atletico Madrid."
Atletico, who sold striker Radamel Falcao to Monaco for a reported £50m earlier this summer, could use Villa as a direct replacement for the Colombian, who scored 32 goals last season.
"I have to talk to the coach Diego Simeone about playing in a number nine role, where Falcao played," he said.
"But I am simply at his disposal and will play wherever he wants. Falcao was loved here but hopefully I can make sure his absence isn't felt."
Villa scored 48 times in 119 games for Barcelona after joining from Valencia in the summer of 2010 for £34.2m. He is Spain's all-time leading scorer with 56 goals from 92 appearances.
"I left Barca because I wasn't playing, not because the World Cup was on the horizon," he added.
One of his first games for Atletico could be against his former club, in the Spanish Super Cup in August.