Nigerian clubs settle transfer dispute over Sunday Mba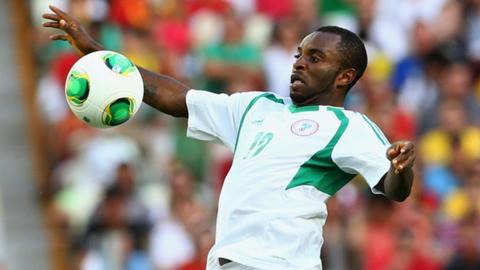 Nigerian side Warri Wolves have reached an agreement with local rivals Enugu Rangers in the dispute over the transfer of Sunday Mba.
The 24-year-old, who scored the winning goal for the Super Eagles at the Africa Cup of Nations earlier this year, will continue to be owned outright by Warri but will play on loan at Enugu until the end of the season in September.
However, Mba is unlikely to return to Warri as he is expected to secure a move to Europe in the coming weeks.
The agreement resolves the future of the midfielder, who has been the subject of a bitter dispute between the two clubs.
"We've taken this important step to enable Mba continue with his young career and not to hinder his progress," Warri Wolves chairman Amaju Pinnick explained to BBC Sport.
"Warri Wolves own the player and full transfer rights, the club decide to let him stay with Rangers on loan and return to Warri at the end of the season.
"It's a significant step in his career and there is no more transfer dispute, row or disagreement with any club."
Back in January Mba believed he was free to leave Warri Wolves for another Nigerian Premier League club.
But the Nigeria Football Federation (NFF) ruled in March that he still had a valid contract with Warri Wolves and that Enugu Rangers, who he wants to join, must pay a transfer fee.
With Rangers stalling over loan payments and unable to fulfil agreed conditions with Warri Wolves, the player and his representatives opted for a return to Warri.
"I've been hoping and praying for a resolution. Now I am happy that everything has been resolved," Mba told BBC Sport.
"Both parties have agreed to a new decision and this is good for my football career.
"I wish to thank both clubs, everyone that stepped in and hope to take my career to the next level from here."
As well as scoring the only goal of the Nations Cup final against Burkina Faso he also grabbed the winner in Nigeria's 2-1 quarter-final win over Ivory Coast in South Africa.