England Under-21s & Under-20s not good enough, says FA director
By Alistair Magowan
BBC Sport in Linkoping, Sweden
Last updated on .From the section Football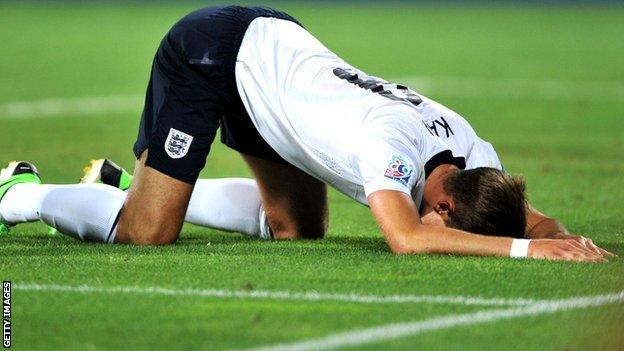 Football Association director of elite development Dan Ashworth says England's age group teams "have not been good enough" this summer.
England Under-21s failed to win a game in the European Championships as did the Under-20s in their World Cup.
Ashworth said: "There is no point beating around the bush - it has been disappointing and not good enough."
The senior women's side, who are still in the European Championship, have yet to win a game in the tournament.
"Hopefully we can still improve the summer with the women," Ashworth added.
Under-21s boss Stuart Pearce's contract was not renewed after his side lost all three games at the European Championship in Israel, while Peter Taylor's Under-20s side failed to win a game and did not make it past the group stage of the Under-20s World Cup in Turkey.
The senior women's side, coached by Hope Powell, have lost to Spain and needed an injury-time goal to earn a draw with Russia, who are the lowest ranked team in the tournament. They must now beat France in their last Group C game on Thursday to qualify for the quarter-finals in Sweden.
Former West Brom technical director Ashworth has been at the FA for four months. And the 42-year old has been tasked with improving the performance of England teams at a time when the numbers of English Under-21s in the Premier League has dropped to a new low.
Some blame the lack of opportunities for young players as a reason why English football development has been stunted, but Ashworth said he was well aware of the issues confronting him before the poor run of results this summer.
Alongside new FA chairman Greg Dyke, he also said he expected to be involved in the process of appointing an Under-21s successor to Pearce.
"It has always been a long-term process and even had we done much better in tournaments this summer I don't think that would have papered over the cracks that we need to mend," he said.
"It has probably reinforced what I thought. I never sat down and thought this would be a defining summer. It has given me a fantastic opportunity to see a lot of our teams in tournament football."
Ashworth, who has previously admitted English football is at a "crossroads", also said the FA would be making a range of appointments in the coming months, including a director of elite women's football.
The role, reporting to Ashworth, will oversee the development of the women's game through the England teams. Current senior team boss Powell has played a key role in establishing the structure already and could be a contender for the new position, therefore creating a space for a new England coach.
But Ashworth, who admits his knowledge has been mostly gained in the men's game over his 15-year professional career, says he has not yet spoken to Powell about the job.
"[Appointing a director of elite women's football] will come to the forefront when we've got the European Championship out of the way, we'll sit down and see how we can restructure the women's game," he said.
"I haven't had chance to sit down and talk with Hope about that or anything on the re-structuring. She's been very much focusing on the European Championship."