Tunisia midfielder Oussama Darragi to rejoin Esperance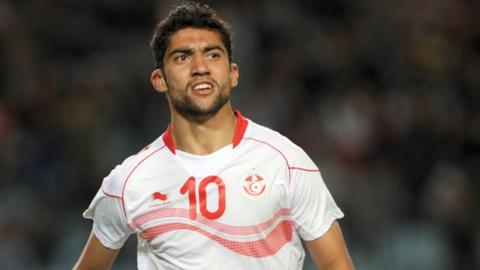 Tunisia midfielder Oussama Darragi is to rejoin his former club Esperance.
The 26-year-old will leave Swiss side Sion after spending just one season with them, despite having signed a four-year deal when he arrived.
Darragi heads home after scoring in Tunisia's past three World Cup qualifying matches.
Tunisia sit at the top of qualifying group B, five points ahead of second-place Cape Verde, who they play in their final game on 7 September.
But Tunisia have not yet won the group because Fifa are investigating whether Equatorial Guinea fielded an ineligible player in the 4-3 win over Cape Verde in March.
If that result is scrapped and Cape Verde are awarded the points, the Blue Sharks would be only two points behind Tunisia going into the head-to-head.
The group winner will advance to a 10-team playoff round to decide Africa's five representatives in the tournament in Brazil next year.