Cardiff City's Aron Gunnarson hopes to win injury battle
Last updated on .From the section Football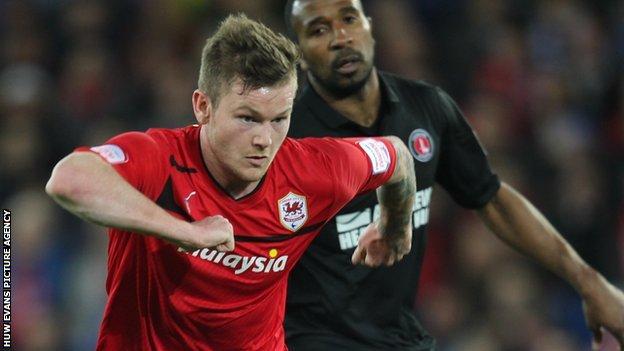 Aron Gunnarson hopes to recover from a shoulder dislocation in time for Cardiff City's Premier League debut at West Ham United on Saturday, 17 August.
Midfielder Gunnarson, 24, in Iceland's 4-2 World Cup qualifier defeat by Slovenia.
During Cardiff's pre-season training in Switzerland he said: "We're on schedule so it's just how I react to it."
Cardiff have also announced defender Mark Hudson will continue as captain during the 2013-14 campaign.
Gunnarson has scored eight goals in 45 Bluebirds league appearances since
In March 2013 he signed a that means he stays at Cardiff City Stadium until 2016.
But the start of the Bluebirds' Premier League life is Gunnarson's immediate target.
"I just have to get it stronger again and be confident in my shoulder," said Gunnarson.
"I just fell on it. I fell awkwardly. But then again I think about it, I've [fallen] like that 100 different times and never anything happened."
He added: "I'm getting better - that's the positive thing about it.
"Luckily I didn't damage anything badly around it.
"[I'll] just wait and let it heal and just get it stable and get it strong.
"But the main part is to be confident that it's not going to happen again.
"I'll be fine. I've been mentally strong since I started playing football so I'm not going to hold back.
"If anything, the main part is to get it pain free and just start to feel normal again."
Manager Malky Mackay says Hudson carries on as skipper for a variety of reasons.
"Mark's our club captain. It's as simple as that," said Mackay.
"Since the day I came in here I've been impressed by not only his attitude, but his actual ability and the actual consistency of the man on and off the field.
"He's been one of these guys that's a dream to work with in terms of the approach that he's got and being open-minded to trying new things and buying into everything that I wanted to do here."