Cardiff City: Quitting Wales 'will help' Bellamy - Malky Mackay
Last updated on .From the section Football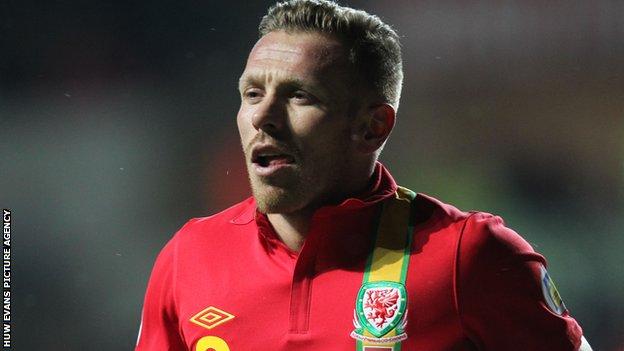 Malky Mackay believes quitting international football will allow Craig Bellamy to prolong his club career with Cardiff City.
Bellamy, 34, has hinted he will retire from Wales duty when the current World Cup qualifiers end in October.
And Cardiff boss Mackay believes that will benefit the Premier League side.
"The time's come for him to bow out as he said he's going to do that and a new breed and a new generation [can] come through," Mackay said.
"The lack of international travelling is going to help his body."
Bellamy has scored 19 goals in 74 games for Wales since making his full international debut against Jamaica at Ninian Park in 1998.
The former Liverpool and Manchester City player has previously said representing Wales is "like a drug".
But Bellamy has indicated the present World Cup campaign, which will conclude later this year, will be his last one with Wales.
Cardiff manager Mackay says Bellamy has served his country with distinction but believes the time is right to quit international football to concentrate on his club career.
Bellamy has a long-standing history of injury problems and his training schedule and appearances have to be carefully planned by Cardiff.
"I don't think anybody calls into question anything about Craig and his international career," Mackay added.
"He's turned up for games when people couldn't see them far enough for a long period of time and has wrapped himself in the Welsh flag for years.
"There comes a point where your body tells you when it's ready to give in. But I don't think he's anywhere near that yet
"His body fat is still great for a man of his age and that's good professionalism. That's looking after yourself to the best of what you can.
"Our medical approach to him and the way [his] individual programme has been set so that we've managed his body better.
"And he's managed his body even better to allow him to play, for example, four games in 10 days over Christmas when everybody couldn't believe it."
Mackay says Bellamy, who returned to Cardiff from Liverpool for a second spell in August 2012, will be a vital part of the club's debut season in the Premier League.
Bellamy has urged his team-mates to hold their nerve next season and to believe they can survive in English football's top-flight.
"He's one of my experienced players and he's someone who's been there [and] done it," Mackay said.
"He's got to be a mentor to some of the younger guys.
"There will be times when he'll be frustrated about something or other in training that he realises he's just got to take a breath and actually go and help players.
"He's got experience to pass on in terms of going into the Premier League. I've got great belief in him."