Jose Mourinho praises Chelsea vision of Roman Abramovich
By Richard Conway
BBC Sport in Bangkok
Last updated on .From the section Football212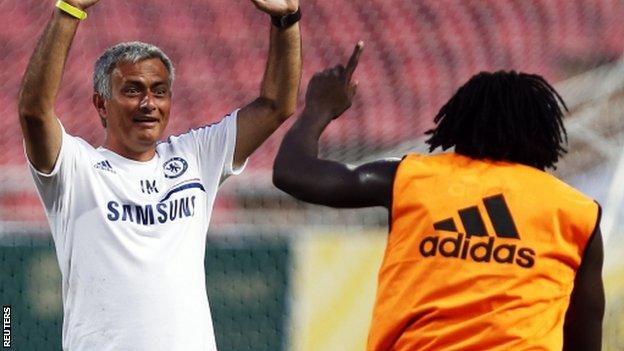 Jose Mourinho believes Chelsea owner Roman Abramovich has out-thought his Premier League rivals as clubs seek to comply with financial fair play rules.
Manager Mourinho thinks the benefits of buying young players in recent years are now being seen at Chelsea.
The London club have signed and loaned out players such as Romelu Lukaku, Kevin de Bruyne and Tomas Kalas.
"With the current Chelsea squad, [Abramovich] was thinking ahead of the others," said Mourinho.
The main thrust of Uefa's financial fair play regulations requires clubs that seek to play in European competitions to balance their books or else face sporting or financial sanctions.
The Premier League has also established financial controls as governing bodies seek to limit excessive spending and narrow the competitive gap between rich teams and those on more modest incomes.
"When Chelsea were buying lots of young players, but the young players were not yet ready to come to play for Chelsea, I was in Italy," added Mourinho, 50.
"I was listening and reading some of the critics.
"You can see this season we have De Bruyne, Lukaku, Kalas. We've brought back three or four players with zero investment now because the investment was made before.
"If people want to follow financial fair play - and we will, I don't know if others are keen to do it but we will - he was thinking ahead."
Belgian De Bruyne, 22, signed from Genk in 2012 but was loaned back to the club who sold him and then out to German side Werder Bremen last season.
Lukaku, 20 and also from Belgium, joined in 2011 and scored 17 goals while on loan at West Brom for the 2012-13 campaign.
Czech defender Kalas, 20, signed from Sigma Olomouc in July 2011 and immediately rejoined the selling club on loan. He then spent two seasons at Dutch side Vitesse Arnhem.
The trio, who cost in the region of £20m, have been added to the Chelsea first-team squad for the forthcoming season.
The London club also have developing players such as Patrick van Aanholt, Thibaut Courtois, Gael Kakuta and Oriol Romeu out on loan for the new season.
Mourinho, who will take charge of Chelsea for the first time since leaving the club in 2007 when his team take on Singha All Stars on Wednesday, also thinks his squad needs a long period of managerial stability.
Since buying the club in 2003, Abramovich has employed nine different managers, including Mourinho's first spell at the club between 2004 and 2007.
"When you see the profile of this squad, it needs a manager for a long time," added the Portuguese.
"We have a median age of 26.3, including Mark Schwarzer at 40 years old and two or three players at 32, 33.
"So if we take out these players, we drop to a very, very young squad - and that young squad needs stability.
"Stability in football terms only the manager can give them. So I'm here for that."
Mourinho admitted that during his first spell as manager he was not ready to commit long-term to the team as he wanted to coach in other countries.
He moved first to Inter Milan, where he won two Serie A titles and the Champions League, before leaving for Real Madrid, where he won the Spanish La Liga in 2012.
"In the beginning I was not ready," he said. "I wanted to make a different kind of history.
"I wanted to win here, to win there, to be champion in the most important countries."