Hearts: Club 9 Sports withhold funds for HMFC Ltd bid

By Brian McLauchlin
BBC Scotland
Last updated on .From the section Football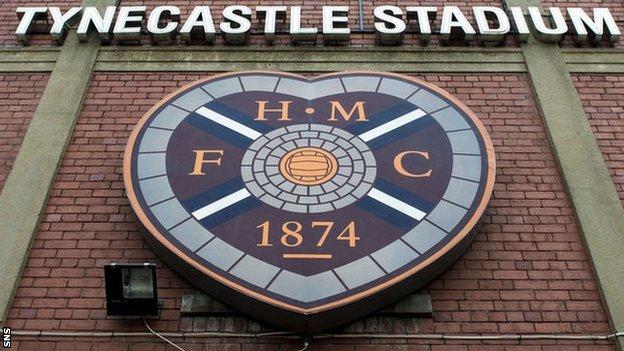 The company behind one of the bidders for Hearts, HMFC Ltd, is withholding £5m that was to be used to buy the club, BBC Scotland has learned.
A dispute has arisen between US-based Club 9 Sports and UK businessman Bob Jamieson, who has tabled an offer on behalf of HMFC Ltd.
Club 9 Sports are believed to be looking for a 75% shareholding.
The dispute places the HMFC Ltd bid in doubt, with
Fans' group the Foundation of Hearts and , are also seeking to take control at Tynecastle.
The HMFC Ltd bid is in the region of £2.5m up front with a further £2.5m being made available for working capital.
Hearts have debts of £25m - owed to companies formerly owned by Vladimir Romanov, who first invested in the club in 2005.
Ukio Bankas, who are also in the hands of administrators, is owed £15m and Tynecastle Stadium is held as security for the liability. The Lithuanian bank has a 29.9% shareholding in Hearts.
An administrator with the power to sell UBIG's majority shareholding will only be appointed if the investment company's bankruptcy is formalised in Lithuania. Hearts owe UBIG £10m.
An exit from administration via a company voluntary arrangement (CVA) can only be achieved if those due 75% or more of the total debt accept a pence in the pound offer.