Champions League: Celtic boss Neil Lennon upset by early start
Last updated on .From the section Football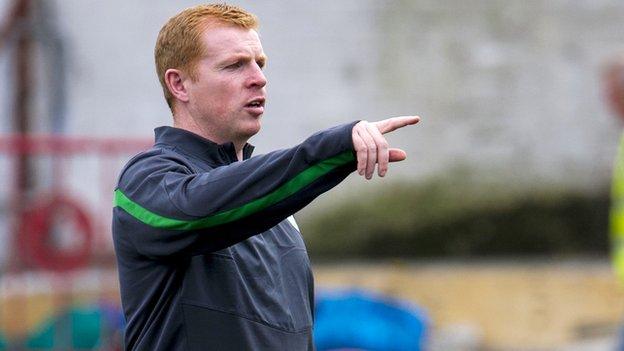 Celtic manager Neil Lennon is unhappy his side are playing Champions League qualifiers so early in the season.
"We are the champions of our country, we reached the last 16 of the Champions League last season," said Lennon ahead of the match in Belfast.
"Surely there should be some sort of dispensation for clubs who do well the previous season."
After winning two qualifying rounds last season, Celtic progressed to the group stage before eventually being eliminated by Juventus in the round of 16.
However this season, Lennon's men will have to win three qualifying rounds to make the groups and will only have a parachute into the Europa League from the third qualifying round.
"Maybe it is just me being selfish, but I think it is very harsh on us to be playing so early," Lennon told reporters.
"I don't think it's fair considering the season we had and the amount of games that we had. To come back early for this qualifier does not seem right - we could be out by next week.
"I suppose that's the rules, the way it is set up, and you have to accept that, but baffling is a good word to use. I don't think it is right we're playing an important competitive game two weeks into pre-season."