Hayle FC withdraw from South West Peninsula League
By Phil Harlow
BBC South West Sport
Last updated on .From the section Football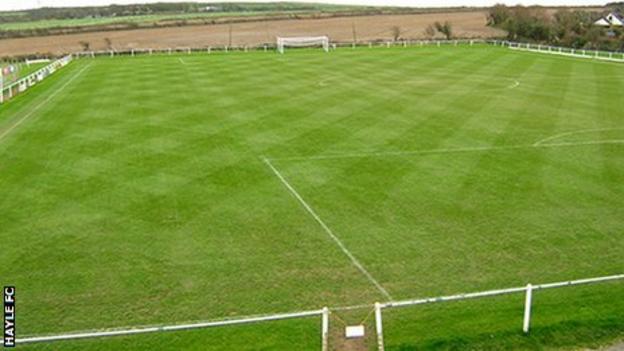 Hayle have withdrawn from the South West Peninsula League after admitting defeat in their search for a new boss.
Previous manager Anthony Reynolds had left the club because of work commitments and several players have also left.
"We're taking a step backwards but we hope it will help us take three or four steps forward," club president Roger Balsden told BBC South West Sport.
"It's very hard to compete with other clubs who are able to pay the players."
A committee meeting on Tuesday saw the club deciding to withdraw for the 2013-14 season.
Balsden was keen to stress that the club will still be fielding three men's teams, together with a women's side and several youth teams at Trevassack Park and that hard work would be going on behind the scenes to get their first-team affairs back in order.
"There shouldn't be any knock-on effect as far as the rest of the club's concerned," he added.
"But if there's anyone out there with a few million in the bank, I'd be delighted to hear from them."
A statement from league official Phil Hiscox read: "The exact circumstances that led to this sad decision are best answered by officials of the club themselves, but we were aware that they were having difficulty in recruiting a manager and a viable squad of players.
"Hayle have always been a credit to themselves and the league with a superbly run club, excellent facilities and a warm welcome to the league officers and visiting clubs.
"As a league, and as an officer of the league, it is a matter of much regret that they are unable to continue in membership.
"There will be a financial penalty to be imposed following this late withdrawal but I am not in a position to state what form that will take, the matter will receive the league officers considered thoughts, and then the club will be duly informed.
"From a practical point of view some league fixtures are and will be moved around but this may still lead to some teams having a week off when they were due to have played Hayle, all clubs will receive revised fixtures in the next 24 hours."