Willie McStay offers pre-season training to free agents
By David Currie
Reporting Scotland presenter
Last updated on .From the section Football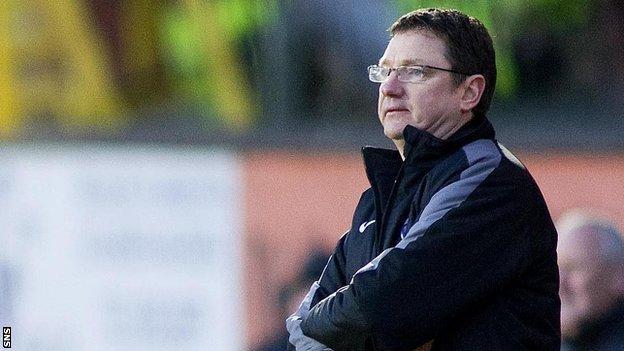 Former Ross County manager Willie McStay is helping out-of-work players stay in the game by running a pre-season training camp for free.
McStay, who has also previously managed Sligo Rovers and Hungarian side Újpest, is coaching players in East Kilbride.
"I'll try to give them that edge for trials with clubs," he said.
"These guys may have been training alone for the summer and staying fit but what they'll have missed is the group and the intensity of pre-season."
After starting his career at Celtic, McStay returned to his first club to coach the youth and reserve teams after his two years in charge of Sligo, for whom he also played.
Spells at Újpest and County followed but he has been out of work since leaving Bristol City's academy in May.
"I'm also looking to get back into the game, but whereas in the past I've sat around waiting for the phone to ring I've decided to do something that'll be good for me and good for the players," he told BBC Scotland.
"Through word of mouth I've gathered a group of players who haven't been able to get clubs together and I'll put them through training next week from Monday to Friday.
"We've got guys from the ages of 17 to 37 from the SPL downwards interested already but I'm keen to hear from more.
"With every day these guys are out of the game they become more vulnerable to being lost to it. They can also suffer stress and even depression and financial difficulties. But I want them to know they are not alone.
"It won't cost them anything and could benefit them and their careers."