Gillingham: Martin Allen admits to Adebayo Akinfenwa dilemma
Last updated on .From the section Football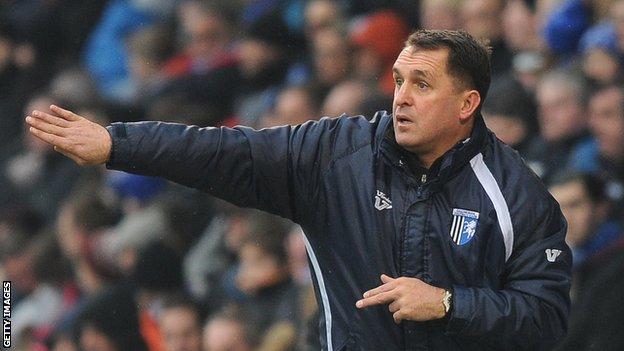 Gillingham boss Martin Allen says time will tell whether he made the right choice to sign Adebayo Akinfenwa rather than offer a new deal to Deon Burton.
Striker Burton scored 13 goals in 43 appearances for the Gills last season.
Allen told BBC Radio Kent: "In the end I have chosen to go with Bayo. That is why I am the manager.
"You put your neck on the line and make decisions. Some of them work and some of them don't work. You're either 'Mad Dog' or top dog."
Burton, 36, moved to Priestfield last summer on a free transfer following a spell in Azerbaijan and helped the club to win the League Two title.
Meanwhile, 31-year-old Akinfenwa scored 17 goals in 51 games for Northampton last season, only for the Cobblers to miss out on promotion when they lost to Bradford City in the play-off final at Wembley.
Allen said he took his time considering the decision over which striker to sign.
"It was 50-50 and we weren't sure what to do. We had to weigh up the financial implications to each contract and I chatted it through with Mr Scally [Gillingham chairman Paul Scally] and my staff.
"I had a break so I had a clear mind before making any decisions. Only time will tell if it is right or wrong," he explained.
Meanwhile, Allen is concerned that his efforts to bring in more new players are being hampered by Gills chairman Paul Scally being out of the country on holiday.
"Mr Scally is on a boat somewhere in southern France," he said.
"He's got one of those barge things going up a river. He has probably gone there on purpose because there is no reception on his mobile.
"Until he gets back off that boat, we've got no chance. I don't know when he is back. We will have a chat and then see how it goes."