Cardiff City players 'hurting a bit' at pre-season camp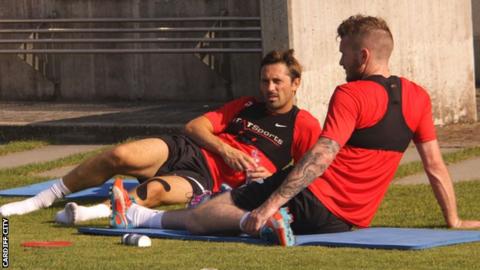 Cardiff City are honing some of their Olympic spirit as they begin preparations for an historic first campaign in the English Premier League.
Their pre-season training camp is taking place beside Lake Geneva and in the shadow of the Alps at Lausanne - since 1915 a place which has been the capital of the Olympics.
The Cardiff City players are finding out exactly what it takes to fulfil the Olympic motto: "faster, higher, stronger".
New fitness coach Martyn Pert explains that while the surroundings might be palatial, the work is exhausting.
"We are not trying to break them," said the former Watford and Bahrain national team coach.
"At the same time I would say we are hurting them a little bit.""
As the players sweat it out on the training pitches and in the gyms, they can't escape Lausanne's pride in its Olympic connections.
Near the team hotel is a digital clock counting down the days, hours, minutes and seconds before the 2016 Games in Rio de Janeiro.
En route to training, the team bus passes the facility called Pierre de Coubertin - the French baron who revived the games.
And the the players' daily workouts are taking place at the Stade Juan Antonio Samaranche - named in honour of the former International Olympic Committee president.
Just like the lawns of the palatial team hotel, the stadium pitch is in pristine condition, even though its regular occupants are a lower league Swiss side.
It has seen its fair share of stars. When Switzerland hosted the European Championships in 2008 the Netherlands team were here, and facilities were recommended to the Bluebirds by former Scotland manager Andy Roxburgh.
The setting may be idyllic but the schedule is punishing. It consists of a daily fare of work, swimming pool recovery, food, more work, more recovery and medical sessions for those with fitness concerns.
There's a medical clinic available at 9pm for any player who needs to tend to their aches and pains.
But as manager Malky Mackay said: "By that time most of them are dragging themselves off to their beds."
The work is essential. Fitness and endurance - both physical and mental - played a big part in Cardiff City's triumph culminating in the joyous scenes as they clinched the Championship title against Charlton Athletic at an ecstatic Cardiff City Stadium in April.
In the Premier League, the need to be fit could prove even more important.
Defender Matthew Connolly, who has also experienced promotion to the Premier League with Queens Park Rangers and Reading, said: "We knew it was going to be tough and if we work hard now and are a lot fitter that helps us.
"It's all about putting it in the bank and getting the rewards later.
"This gives foundation to our fitness for the season. Everybody enjoyed promotion, we celebrated, we've been on holiday and now it's back to work.
"We need to be even fitter this time around. There are world class athletes in the Premier League.
"One mistake or lacklustre performance will be punished. That's why we are focused on fitness."
For manager Mackay, the tough pre-season is part of his plan to prove the bookies wrong.
Cardiff are among the favourites for relegation, but Mackay takes confidence from his team's promotion.
"We are a team that won the championship by eight points and only three teams have done that in the last 10 years.
"We are consistent, we were very strong in our division, some of the guys have played against Premier League opposition before.
"Some of them tested themselves against one of the top five or six teams in the country - playing Liverpool in the Carling Cup final and ran them to penalty kicks.
"Without a doubt it is going to be tough, but I have a huge belief in them and my coaching staff. We will be organised, we'll be disciplined and we'll be fit.
"And we will have a belief that we can actually be very competitive next season.
"We were the bookies favourites to go up last season I'm sure we'll be the bookies favourites to go down. They are not always right, Southampton showed that."
A central plank of Mackay's approach is hard work and endeavour, which means being fit.
Pert said: "They definitely won't lack fitness. I think if you look at the stats last year they were quite high up there in the League in the amount of runs they made.
"I would envisage that being the same in the Premier League, too. They are a fit group, but they are not just that - they are hungry too."
Just like in the Olympics the margins between gold medallists and also-rans can be slim.
Cardiff City's players will be hoping the work they have gone through in Lausanne will help them triumph in their biggest sporting test yet - surviving in the Premier League.