Casey Stoney column: England players can handle pressure

By Casey Stoney
England women's captain
Last updated on .From the section Football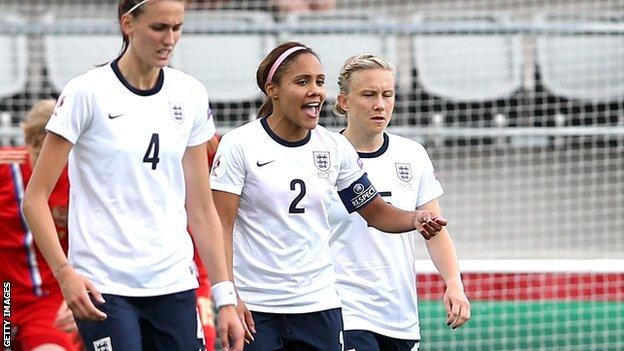 England and Lincoln Ladies captain Casey Stoney is writing regular columns for the BBC Sport website during the 2013 European Championship.
Here she talks about her disappointment at only drawing with Russia, the England players' determination to qualify for the quarter-finals by beating France and dealing with increased media attention.
If it wasn't for Toni Duggan's injury-time goal against Russia there is no doubt we would be going into Thursday's crucial game against France with an even greater mountain to climb.
At the time, we could have gone out. But as it stands now, a win will put us through to the quarter-finals and although I was very disappointed to only draw with Russia, who are the lowest-ranked team in the tournament, I was absolutely delighted to still have a chance of progressing.
Toni gave us the lifeline we needed, and hopefully it will give us a boost going into Thursday. She is a bright character off the pitch and when she, and Kelly Smith, came on against Russia they livened up the other players. I imagine it has given our coach Hope Powell food for thought.
Any international footballer would feel frustrated by being left out but whether the players are in the starting XI or on the bench, we are very much a squad that sticks together and supports each other.
I know what it feels like to sit it out. In the 2005 European Championship, held in England, I was a substitute and I didn't play a single minute in a home tournament.
At the time, it was the lowest point of my career and I was thinking of quitting England but now I see that as a catalyst for what I have achieved since.
The hardest thing about it is you can't affect what is happening on the pitch but you have to deal with your emotions away from the rest of the team because they have to be able to go out and perform.
You can help in other ways, though, especially at half-time and full-time because sometimes you see things differently when you are on the sidelines compared to when you are playing and those are the kind of things I tried to do in 2005.
Toni and Kelly both showed how important substitutes are and against France we will have to be at our best because they are a great side and many people's tips to win Euro 2013.
They have already won the group regardless of the result on Thursday so what team they will field I don't know. Yet with nearly half the squad playing for Champions League runners-up Lyon, they will still be strong.
We have a point to prove against them, having lost in the 2011 World Cup on penalties. And after drawing 2-2 with them last October, having taken a 2-0 lead, we know we are more than capable of beating them.
After our first two games we know we need to improve but I absolutely believe that whatever team Hope puts out on Thursday, we can step up our game. More often than not, we do that against sides who are ranked higher than us.
The pressure is on but, in my opinion, it has nothing to do with the increased media coverage we have been receiving. Overall, it has been brilliant and something I have never experienced before.
But is that a distraction? No. We can't make excuses for the performances we have put in because of the media attention. There is pressure of course, but for me it is a great pressure because we can change people's views of the game in our country and that will depend on reaching the latter stages of the tournament. We don't want to miss that chance.
There is no other focus than what we are going to do against France. It's time to stop doing the talking off the pitch and start doing it on it so I will sign off until Thursday!