Europa League: Derry aiming for Turkish delight in Trabzon
Last updated on .From the section Football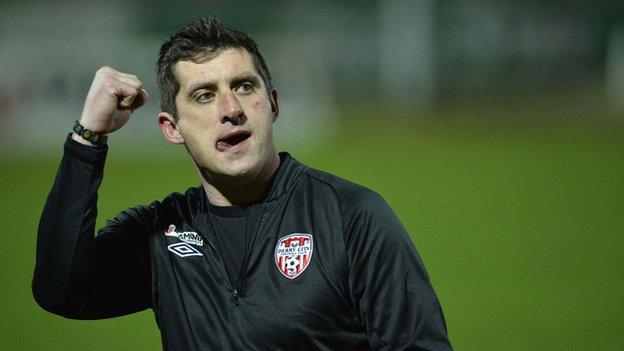 Trabzonspor may be nicknamed the Black Sea Storm but it is Derry City who is riding on the crest of a wave.
The Candystripes are fighting on three fronts domestically and after a four year absence, the club make a welcome return to the European stage.
The FAI Cup holders have been handed the toughest draw of all the Irish sides in Europe against a Trabzonspor team beaten 1-0 by Fenerbache in the final of the Turkish Cup and have just completed the signing of former Chelsea midfielder Florent Malouda.
At least, when Declan Devine and his squad landed in Istanbul after a four hour flight and later at the City of Trabzon airport following a further 90 minute internal flight, there were no 'Welcome to Hell' banners to greet the official party.
Perhaps, the 0200 arrival time on Wednesday morning had something to do with it but according to one local Turkish football journalist, Irish clubs generally receive a warm reception in Turkey.
That was certainly the case throughout their first day of acclimatisation in this port city located in the north east of Turkey and a trade centre to Iran and Russia. In stifling heat - where temperatures reached a maximum of 35 degrees Celsius in mid- afternoon - fans of both clubs mingled freely in the city centre 'Mayden' square and the surrounding narrow cobbled streets.
The holy month of Ramadan may be underway but there was no shortage of local establishments for the Red and White Army to relax and enjoy the local beer 'Efes' at the cost of 14 Turkish Lira (£4.80).
Noticeably, the city is decked in the local club colours of Claret and Blue everywhere you look - shop fronts, flags draped from windows and market stalls in every corner selling club merchandise. Even the chimneys are painted.
Trabzonspor has a fanatical fan base drawing most of their support from the Travzon province and surrounding regions. A recent study actually showed that as many as 72% of Trabzon support their local club - which is higher than any other region in Turkey. They have an estimated 4 million supporters globally.
The Trabzonspor tradition is something to become familiar with where the home supporters are renowned for their festivities in the 61st minute - 61 being their city code.
In this minute of every home game, the crowd go crazy setting off fireworks and confetti and a scene of pure jubilation sweeps across the Huseyin Avni Aker Stadium to create an electric atmosphere.
The ground, built in 1951 and named after a PE teacher who served in Trabzon during 1940-1944,, has a capacity of 24,169.
It will be nothing like the Candystripes have experienced before but they have shown in the past the resolve to carve out the most unlikeliest of results when they appear up against it. Who will ever forget Sean Hargan's memorable late header which beat Gothenborg in Sweden back in 2006?
Derry would dearly love a Turkish delight. There is nothing part-time players enjoy more than testing their skills against seasoned professionals.
With a league title to challenge for - they are four points of the top - and still involved in both the FAI Cup and EA Sports Cup, the Foylesiders can temporally afford to switch their attentions to Europe and the prospect of facing the likes of former Spurs midfielder Didier Zokora and Austrian striker Marc Janko.
It's that time of year when players can dare to dream. For the moment, the Black Sea looks calm.
The match will be broadcast live on BBC Radio Foyle, with coverage starting at 19:00 BST.