Cardiff City: Tommy Smith feared Malky Mackay would leave
Last updated on .From the section Football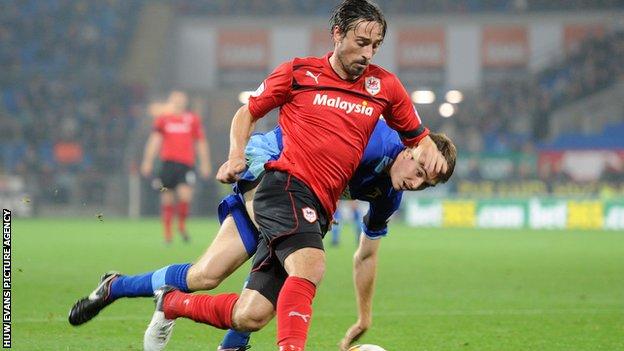 Midfielder Tommy Smith has revealed he feared Cardiff City manager Malky Mackay would leave for Everton.
Mackay, who led the Bluebirds to the Premier League, was touted as a possible successor for manager David Moyes at Goodison Park.
Moyes took over from Sir Alex Ferguson at Manchester United, but former Swansea boss Roberto Martinez replaced him on Merseyside.
"I was worried and I am sure a lot of other people were," said Smith.
Mackay's success in guiding Cardiff to the Championship title in only his second season in charge has seen his managerial stock rise.
Smith added: "It is part and parcel of being a good manager, likewise as a player, that you get linked [to clubs] and I was very pleased he stayed.
"You will have to ask him the ins-and-outs of it, but I am sure he has a job here he wants to fulfil and he has ideas and ambitions for this club.
"He wanted to stay and put them into motion."
Smith, 33, played for Mackay during his three-year tenure as manager at Watford before he signed for Portsmouth in the Premier League in 2009.
He then moved to QPR for around £1.5m on a three-year contract in 2010 before he signed a two-year deal to join Mackay in Cardiff in 2012.
He was a regular in the QPR side that won promotion from the Championship in the 2010-11 season, and scored the club's first goal on their return to the top flight.
And Smith is one of the few players in the Bluebirds squad to have Premier League experience, having played for Watford, QPR and Portsmouth in English football's top flight.
While Cardiff have already been labelled as one of the favourites to be relegated, Smith is confident the club from the Welsh capital can survive in the Premier League.
"The big change from the Championship to the Premiership, over recent years, is that the gap has closed between the lower Premiership clubs and the top Championships clubs," said Smith.
"That will hold us in good stead, but the biggest difference is finding goals and trying to get goals throughout the team.
"Also, a lack of concentration once can cost you games and you lose games because of that.
"The difference between the two levels is that you can have a bad game at Championship level and still get a result, while in the Premiership that doesn't happen."