Michael Duberry: former Oxford United man not ready to quit
By Robyn Cowen
BBC Radio Oxford
Last updated on .From the section Football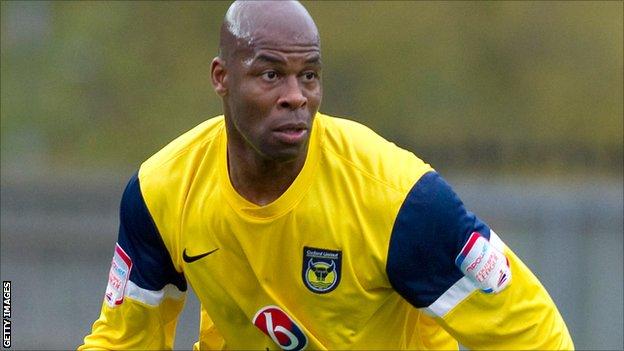 Former Oxford United defender Michael Duberry says he is determined to continue playing football despite being released at the end of last season.
He has been training with Ryman Premier Division side Hendon to stay fit while he waits for contract offers.
And Duberry, 38, who has played Premier League and Champions League football during a successful career, is refusing to hang up his boots just yet.
"I just love playing football," Duberry told BBC Radio Oxford.
Duberry added: "If I wasn't playing professionally I would be playing in some capacity. I've got football left in me.
"Every old pro will tell you to play as long as you can. I can still play."
The former Chelsea player signed for the U's in June 2011 and became a regular starter at the heart of the Oxford United defence but was restricted to just 13 appearances in the 2012/2013 season because of a serious neck injury.
However, after playing in the final five games at the tail end of the campaign, Duberry believes he has proven his fitness.
"My last few games for Oxford United showed that I'm fit and healthy and more than capable of competing, not just doing a job," he said.
"I don't feel like I'm 38, I've got lots of energy in me. I'm like a vintage car with not a lot of miles on the clock.
"I think (potential clubs) will be pleasantly surprised by what I can offer the team, how I can make the team better and the personality I can offer around the changing room and on the pitch. It's down to someone to take that chance."
Duberry, who has also had spells at Reading, Leeds United and Stoke City, says potential clubs should not focus on his age when considering whether to sign him.
"Maybe they are scared of my age," he admitted.
"But I don't think age is a factor, in the same way if you're young enough you're good enough and definitely if you're old enough you're good enough!"
However, the centre-back has admitted there are certain offers he would turn down because of family commitments.
"I'm keeping myself in an area where I'm available for the kid's school runs," he said.
"At 38 I don't want to be up the other end of the country and spending half the week away from the kids.
"But saying that, I still thought the phone would ring, people might take their chance and throw something at me. But it hasn't rung at all and that's a bit surprising."
"I just want to play football. I'm not playing for financial reasons; it's for the love of the game.
"I don't want to have to turn my hand to something else because I've still got the buzz to play football."
Duberry began his footballing career at Stamford Bridge, signing as a trainee with the west London club in 1993.
After 20 years in the game he believes he still has the ability to play in the Football League.
He said: "I could play at League One or maybe Championship level but could I do it consistently over the season? No, because at 38 my body might break down.
"But League Two I could handle three games in a week and my body wouldn't break down. That's the level I could play at for a whole season.
"If I had to drop out of the league, would I do it? No problem. Because I still want to play."
Listen to the full interview with Michael Duberry on BBC Radio Oxford on Saturday from 14:00 BST