Didier Six: Will he stay as Togo coach or will he go?
Last updated on .From the section Football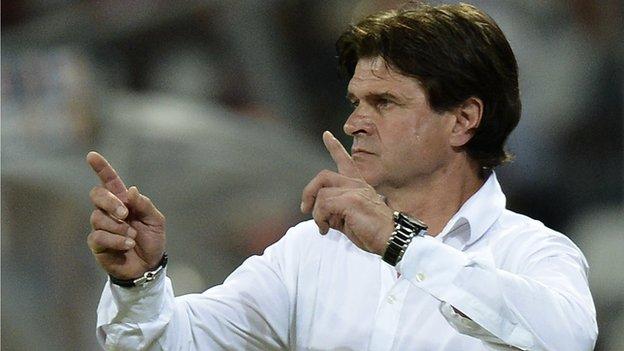 Confusion remains over whether Didier Six is still in his role as Togo coach or whether the Frenchman has resigned.
Speculation has mounted since the end of June that Six effectively quit his position after announcing on a Togolese local radio station that he was leaving for France and would not return for Togo's final World Cup qualifier against DR Congo in Lome in September.
The Sparrow Hawks are bottom of Group I and out of the race to reach next year's tournament in Brazil - and the continuing doubts over Six are only adding to their current woes.
In May, Six threatened to resign unless the Togo Football Federation (TFF) paid him $128,000 he says he is owed in expenses from a scouting trip in Europe.
At the time, the TFF questioned the coach's spending as dismissed his ultimatum as something it "used to."
And while the TFF's communications officer Herve Agbodan has admitted the governing body had been informed that Six had requested payment of all outstanding monies owed to him, he insisted the 58-year-old "has not produced any official letter of resignation".
Agbodan added: "Before he should resign he must produce an official letter to the TFF."
The TFF has also said that it is not looking for a new coach as it refuses to recognise that Six has ended his tenure as Togo coach after 14 months in the role.
However, BBC Sport understands that a resignation letter was sent by Six to the secretariat of the Ministry of Sports.
And with neither the TFF nor the Ministry for Sports able to confirm whether or not Six has resigned, the uncertainty appears set to rumble on for some time to come.