Hereford United: Martin Foyle says player-coaches aid budget
Last updated on .From the section Football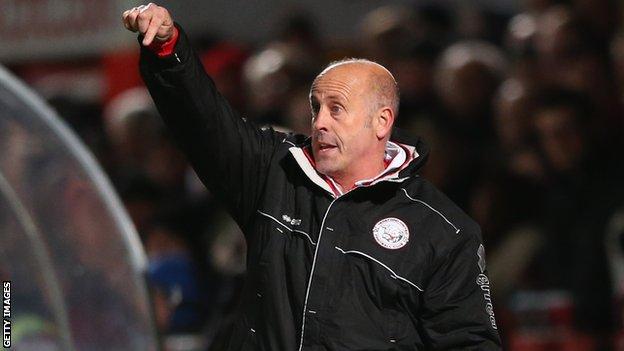 Hereford boss Martin Foyle says he needed to appoint two player-coaches as part of cost-cutting measures.
Players Luke Graham and Rob Purdie have both been given roles in Foyle's backroom staff at Edgar Street this pre-season.
"We're cutting costs at all angles," he told BBC Hereford and Worcester. "I was trying to come up with the best structure to suit myself and the club."
"We are not like most clubs where they have three or four staff."
He added: "Luke is an A Licence coach and he was fantastic for me last year while Rob comes in and does all the individual programmes and diets and I just thought this was another thing we could give to the players."
With the club having been close to administration during last season, Foyle has had to cope with cuts of at least 18 per cent to his playing budget.
Such has been the turnover of players that Graham is the only player still at Edgar Street from the pre-season of last summer, and Foyle admits the situation has caused him headaches.
"This summer has been very hard when it comes to trying to recruit players," he said. "I know the money will be a factor but if I don't see them regularly then it's difficult trying to get the right people in.
"You can remember players up until about 12 months after you have seen them but once you go over about 18 months all you remember is the names.
"I have got to get out and watch more games as the more games I see, the better quality of player I can bring to the club and that can only be better for us."