Cardiff and Vincent Tan issue Victor Wanyama correction
Last updated on .From the section Football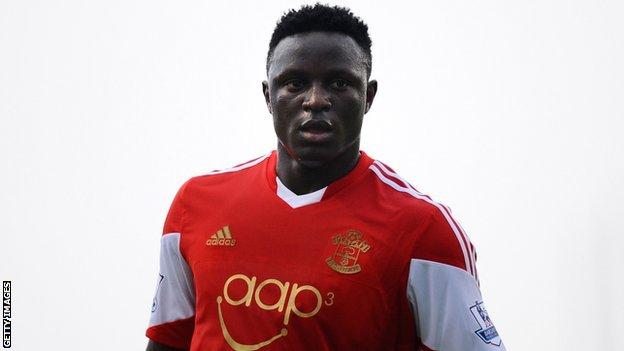 Cardiff City and owner Vincent Tan have issued a statement correcting his earlier assertion they agreed a deal to buy Victor Wanyama from Celtic before he for more money.
Tan said a £10m fee was agreed for the Bluebirds to sign the Kenya midfielder, who then joined Southampton for £12.5m.
Celtic boss Neil Lennon has reportedly dismissed Tan's version of events.
And Cardiff have now said that while they were in talks with Celtic to sign Wanyama, "no formal bid was accepted".
At a midweek news conference, Malaysian Tan said: "We agreed to buy Wanyama, but they raised what they want from £10m - they wanted more - and I said no."
Tan, who also said he was days away from a deal to make added: "One of the biggest expenditures of this business is the players and I read Celtic bought Wanyama in 2011 for £900,000.
"And then they ask for £10m and then the other party is interested and they say it's £12m, £12.5m."
Having missed out on Wanyama, Cardiff suffered a further setback when instead of moving to Cardiff City Stadium.
They are still attempting to bolster their squad, though, with Tan saying: "We are looking at several others. We have a good current squad and we need a few additions to make it stronger."
Wanyama's move to the Saints has convinced Tan that Cardiff entering a player-development partnership with FC Sarajevo is the way forward.
He also said a £15m expenditure, the arrival of Craig Bellamy and ensured promotion from the Championship.
Tan said Cardiff had been on the brink of "going bust several times" but added: "We spent £15m - that's how we got up. That was one factor. It doesn't mean if you spend £15m you are going to go up.
"We have a combination; we brought in some players that helped us. We have a good manager, we have a good squad and we have Craig Bellamy.
But the owner added: "I'm disappointed that after 51 years not in the Premier League, we went up and there are still some fans who don't think we have all done a good job.
"So we like to think that those who are against are probably about 5%, we'll try to live with that."