Cameroon make progress on Fifa ban
Last updated on .From the section Football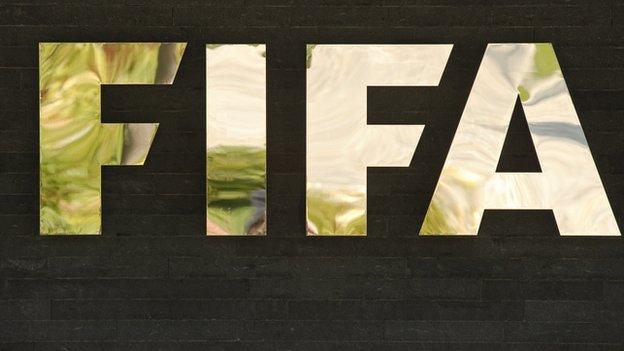 World governing body, Fifa, and the Confederation of African Football are in the process of nominating people to sit on a normalisation committee to run the sport in Cameroon.
The move is aimed at the lifting of a global ban on Cameroon imposed by Fifa for government interference in the sport.
It follows a meeting between a delegation from the Cameroon government and Fifa president Sepp Blatter in Switzerland.
The normalisation committee, once in place, will act as an electoral body that would revise the statutes of the Cameroon Football Federation (Fecafoot).
It will also organise federation elections to be held by 31 March next year.
Members of the committee will not be eligible for any of the open positions at Fecafoot.
There has been confusion within Cameroon football in the months before the ban with federation elections postponed on several occasions.
When the elections did go ahead Iya Mohamed was re-elected as president despite the fact he is being detained by the authorities in Cameroon.
He is being investigated for embezzling money at state-owned Cotton Development Company.
Soon after the election results were announced Fecafoot's Elections Appeals Committee declared them void.
In the aftermath John Begheni Ndeh declared himself as head of the federation and started work with the help of police, which was deemed as political interference by Fifa.
In another development Fifa has asked the Court of Arbitration for Sports (Cas) to extend their deadline to provide evidence of the government interference to the court.
Ndeh had filed an appeal with Cas following the Fifa suspension on 4 July.
Fifa has told Cas that progress is being made on the original case and more further progress could be made at any time.