Kallon plans to change the face of Sierra Leone football
By Mohamed Fajah Barrie
BBC Sport, Freetown
Last updated on .From the section Football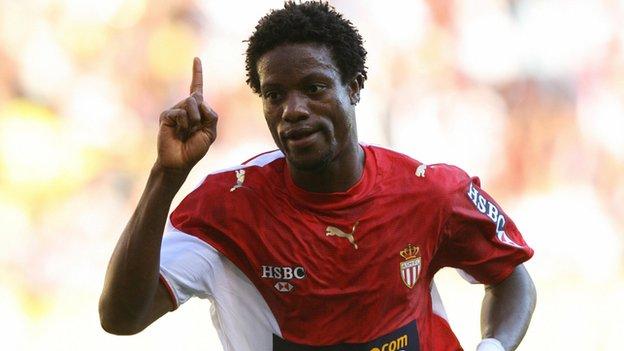 Former Inter Milan and Monaco marksman Mohamed Kallon says he wants to change the face of Sierra Leone football.
He is hoping to get that chance by standing in elections to become the next president of the Sierra Leone Football Association (SLFA).
"The way football is being run in the country is not favourable; I think it's the right for me to make the right move," he told BBC Sport.
"I'm contesting because I want to change the face of our football."
The 33-year-old says he wants to focus on the league and the development of the sport.
"I'll bring stability in the running of the game; I'll get proper Premier League and grass root football running as well as putting together the structures."
Kallon, who is still playing in the local premier league for the team he owns that bears his name, surprisingly submitted his nomination for the hot seat on Thursday.
The SLFA elections are scheduled to take place in Freetown on 3 August after several postponements due to disagreements on who is eligible to stand for president.
The elections will bring to an end the tenure of an interim body set up by world's football governing body, Fifa, last December to run the SLFA and conduct elections.
Kallon believes he's competent to head the SLFA even though he has never been football administrator at the highest level.
"Obviously I have what it takes to be head of the SLFA, I know there are lot of problems, lot of divisions in the game but I'm capable of fixing the problems," he insisted.
"I'll bring honest people together who can work for the interest of the game.
"I've been a player for the past 20 years but don't forget I've my club FC Kallon who has been in existence for the past 12 years.
"I'm administrating my club by myself and the club are doing well.
"In the process of playing football I was learning how to administer the game and I think I'm competent enough to lead the FA.
"For example, Kalusha Bwalya has been a player for the better part of his life and now is the Zambia FA President."
The former Leone Stars captain says if he wins, it will bring down the curtain on his playing career.
His main opponents in the polls will be Rodney Michael and Isha Johansen.
And Kallon has called on the Sierra Leone government to avoid getting publicly involved in the elections.
He is upset that sports minister Paul Kamara has publicly backed Johansen.
"Fifa frowns on political interference and we should not condone it in the SLFA elections," he said.