Barry Town United AFC given trial date for FAW case
Last updated on .From the section Football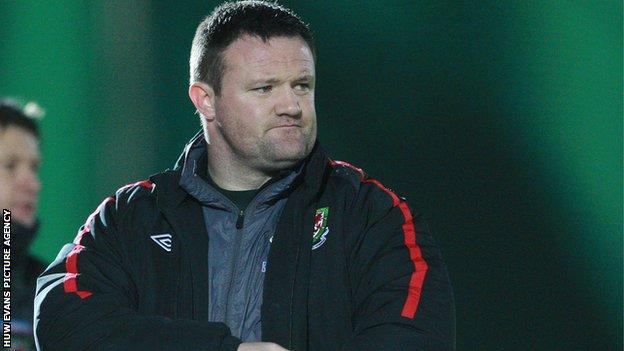 Barry Town United AFC's court case against the Football Association of Wales for denying them entry to the Welsh Football League will be heard next month.
A new club was started after the owner of Barry Town withdrew them from the Welsh football pyramid last season.
Earlier this month the FAW Council refused to discuss a reprieve for the new club from playing parks football.
At a court hearing in Cardiff on Friday the case was adjourned to 7 August.
Judge Seys-Llewellyn will hear the case in a trial set to last a full day although judgement could be reserved till a later date, according to the Cardiff Civil Justice Centre.
Barry Town United AFC is insisting it be allowed full membership of the FAW for the 2013-2014 season and be admitted to Welsh Football League third division for the 2013-2014 football season.
The club is also seeking a declaration that the FAW's decision not to allow Barry Town membership of the association is unlawful.
Andrew Edwards of the Welsh Premier League in protest at what he called a "shambolic" meeting in Caersws which refused to hear the cases for a reprieve put by Barry Town United and a new Llanelli club.
Edwards subsequently issued a letter to all member clubs raising further concerns about the Council.