Saints Euro seeding pleases Millar
Last updated on .From the section Football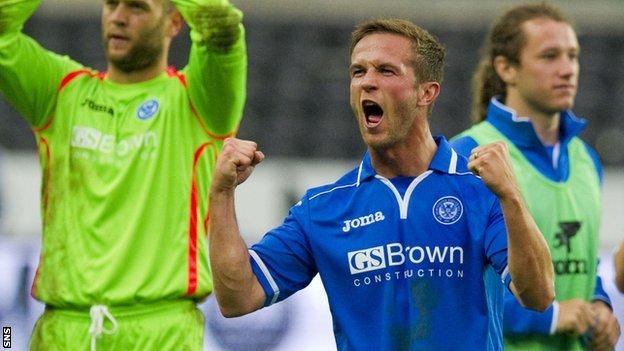 Midfielder Chris Millar is delighted St Johnstone will be seeded for their Europa League third qualifying round draw.
The Perth club have a 1-0 lead over the Norwegians after the first leg of the tie, in Trondheim.
"It's nice that if we did get through we've got the seeding and a slightly easier tie," Millar told BBC Scotland.
Rosenborg/St Johnstone were drawn as the away side for the first leg of the tie against Valletta/Minsk and the dates of the legs for the Europa League third qualifying round are 1 and 8 August.
Saints were seeded for the draw thanks to Rosenborg's higher ranking in the coefficient.
"I think anybody we got would be a tough draw," added Millar.
"In Europe I don't think there are any easy games.
"We're not taking anything for granted and we can't look too far ahead."
And Millar agreed that, if St Johnstone were to knock Rosenborg out, it would rank as one of the Perth club's greatest achievements.
"Definitely, you just need to look at their recent history in Europe," he said.
"They're always there; two years ago they were in the group stages of the Champions League, so we know how big a win that was [in Norway].
But, despite the gulf in European pedigree, the Scots have the advantage thanks to Frazer Wright's first-half goal.
"It was a tough tie," said Millar. "Rosenborg are a very good side.
"But we always had belief that we could get a result there, but, to get the away goal, it was what we were all hoping for.
"It's only half-time and we've still a lot to do in the tie."