John Ward: Bristol Rovers manager frustrated by wage cap
Last updated on .From the section Football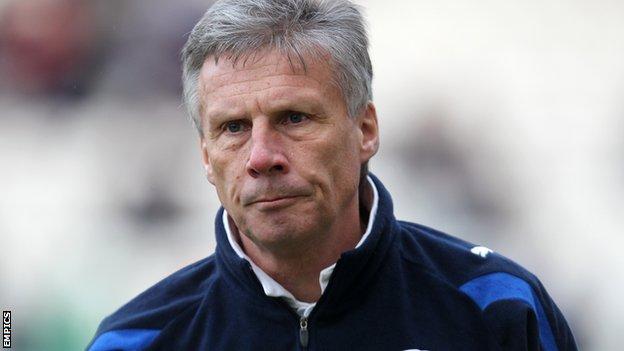 Bristol Rovers boss John Ward says financial rules may hinder the club's chances of bringing in injury cover.
Rovers lost several players to long-term injury last season and could start this term without Fabian Broghammer, Ryan Brunt and Jim Paterson.
But Ward may not be able to recruit as Football League regulations state that clubs are limited to spending 55% of their turnover on players' salary's.
"I have to try and strengthen, but there are limits," he said.
"The strange thing about the rules is that the injured players, even the ones out over a longer term, are all counted within the budget.
"We can only go so far in what we play for players and we have to abide by those rules.
"I think there is a feeling around the game at this level that it is a bit of a strange rule.
"We can't complain because it was a rule that was voted in by the clubs and I'm not saying it is right or wrong, it is just my observation of it."
Midfielder Broghammer and striker Brunt both have knee problems, while Paterson broke his leg during a pre-season friendly against Hereford.
Defender Danny Woodards is expected to be out until Christmas after damaging his anterior cruciate ligament, while Seanan Clucus has a similar prognosis.
And Ward added to BBC Radio Bristol: "I think with this particular rule that there could possibly be exceptions in certain circumstances, such as when a club has six or seven players injured at one time.
"Sometimes when rules are implemented it is not until later that it becomes clear that some parts of it should be amended and that is maybe something we could put forward as a club at some stage."