Casey Stoney column: We deserve to go home

By Casey Stoney
England women's captain
Last updated on .From the section Football162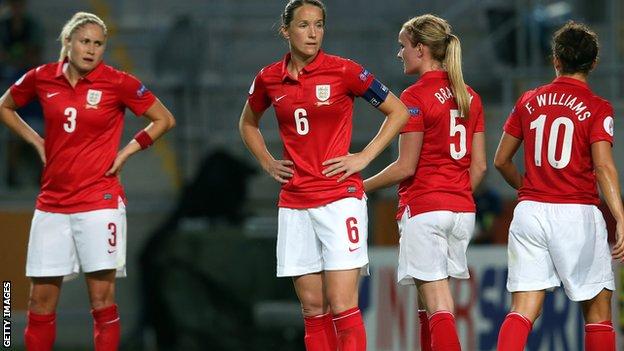 England and Lincoln Ladies captain Casey Stoney is writing regular columns for the BBC Sport website during the 2013 European Championship.
Here she talks about England's early exit from the Euro 2013 tournament and how the side will now go forward.
We never expected to be going home so early from the European Championship and after finishing bottom of the group it is probably one of the lowest points in my career.
I was up all night after the game trying to work out why we didn't get going at Euro 2013 and when I woke up on Friday morning after not much sleep at all I was still quite emotional. After all the media coverage we have been receiving, it feels like a missed opportunity.
For a week or so after blows like this, I really struggle from a mental point of view. I'm feeling this one massively because I'm captain of this team and I have to be held accountable. But I am also a huge believer that setbacks can be a good thing because it gives you an opportunity to respond.
Being left out of the team in the 2005 European Championship inspired me to greater heights and when we lost to Canada in the last eight of the 2012 Olympics, I won the Football Association's International Player of the Year award.
The Olympics was hard because we played well up until the quarter-finals but here in Sweden we have not showed our true potential during our three group games - the 3-2 loss to Spain, the 1-1 draw with Russia and the 3-0 defeat by France.
We deserve to go home. You can't play like we did and expect to reach the quarters.
The media loves to play the blame game after England bow out of a major tournament but our manager Hope Powell has selected her strongest XI each time and, as players, we haven't done it so we have to take responsibility for that. We cross the white line and we perform or under-perform.
When we talk about being a team, we are one team from staff to players so I'm sure we will all reflect and take responsibility.
I'm not sure that tactics comes into it. I think we under-performed as individuals and as a team. We didn't pass the ball well enough, we didn't keep it well enough, we didn't defend well enough, so tactics go out the window when the basics aren't right.
France are a great side and I think they will go on and win Euro 2013. There has been a massive improvement from Bruno Bini's side since we were three minutes away from knocking them out of the 2011 World Cup quarter-finals.
It's no coincidence that seven of their starting line-up on Thursday play for Champions League runners-up Lyon and all train full-time. I think you could tell that during the game.
That needs to be an example of the way we need to move forward in England. If we want to win at international level, how can you compete when you come up against sides who train twice a day compared to most of the England players who are training twice a week with their clubs in addition to their own daily programmes?
It's not rocket science, but at the same time that's up to the clubs in the FA Women's Super League, it's not necessarily up the FA. They are trying to move the game forwards but the clubs have to take ownership of that now.
It might be difficult if clubs are only semi-professional but England players need to be full-time.
As for my own future, I love playing for England, it's my life. It hurt when I read all the criticism about how our defence has performed in the tournament and I take that personally.
But I am honest enough to admit I haven't done a good enough job so the first thing I will ask myself is: can I still do it? I believe I can, I still believe I've got more to give and I need to work harder, as we all do, to give ourselves the best chance of qualifying for the 2015 World Cup in Canada and going there and doing something special.
The media attention in this tournament has been great and it is not something that has got in the way of what we have been trying to achieve in Sweden.
It is a shame we could not have gone further because if we had, the nation would have got behind us and we have missed a chance to take the women's game to a wider audience.
We have not shown how we can truly play, but one thing I can assure you of: it is not through a lack of effort. There's no lack of passion and desire, when we pull on that shirt we go out and give absolutely everything.