John Terry not safe at Chelsea, says Jose Mourinho
Last updated on .From the section Football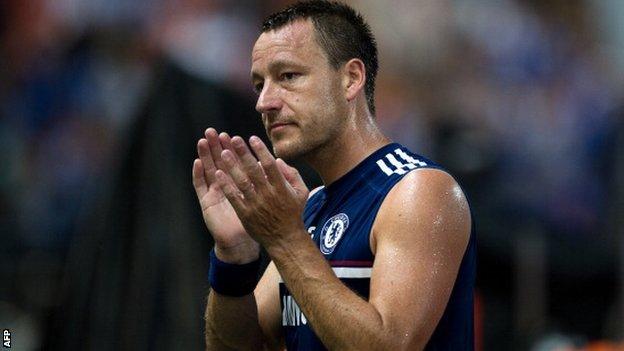 Chelsea manager Jose Mourinho insists captain John Terry is "not safe" and must prove himself worthy of a first-team place and a new contract.
Terry, 32, was skipper in Mourinho's previous spell from 2004 to 2007 and has a year left on his current deal.
Mourinho said: "He's not safe, and he knows he's not safe. The only thing he knows is safe is our friendship, but professionally, nobody's safe.
"I know he's a very good player, but he must prove himself like everyone else."
Terry, whose first spell as skipper under Mourinho heralded six trophies, was no longer a guaranteed first choice under Mourinho's predecessor Rafael Benitez last season, however Mourinho believes the centre-back still has a lot to offer.
"I feel the motivation is there, the pleasure of training and playing is there," Mourinho added.
"His class is there. His position is there. From a physical point of view, he needs to work hard and not have injuries because injuries break the evolution of the player. For me, that's the key point for John."
The Portuguese is also confident he can get the best out of £50m striker Fernando Torres, who has struggled at times since his January 2011 arrival at Stamford Bridge.
"I think I know Fernando quite well in terms of a player," said Mourinho, who believes Torres is at his best when he can run in behind defences.
"I think I know the best way for a team to play to try to get the best out of him, so I will try to help him, the same way I try to help other people."
Meanwhile, Chelsea's Petr Cech has hit out at critics of the club's goalkeepers insisting that the arrival of Mark Schwarzer from Fulham marks no change in the level of competition for a place in Mourinho's team.
Speaking to BBC Sport's Richard Conway, at a coaching session held by the club for Malaysian children, Cech insisted that the side's reserve keepers - Hilario and Ross Turnbull, who was released from his contract in June - had challenged him in recent seasons.
"I'm always under pressure," he said.
"Everybody was saying we need better back up. You never seen them training, you never seen them working and i would say there are far more goalkeepers playing in different teams which are not as quality as Hilario and Turnbull.
"So I think this is something that kept me under pressure. I had to do my best and I did so."
Cech, who signed for the London club almost a decade ago and is one of only a handful of players remaining from Mourinho's first period in charge at Stamford Bridge, says the the Portuguese manager is determined to continue winning.
"I think in the case of Jose Mourinho he can't be more hungry - he's as hungry as he can be.
Andre Schurlle, 22, who signed for Chelsea this summer for a reported £18m fee from Bayer Leverkusen, revealed he spoke with the manager of the German national team, Joachim Low, before making the move to London.
"We talked a long time, two months ago, about that I wanted to come here, that I want to play for Chelsea,' said the forward.
"And he said it's really good for me [to move]."
"He wants the players of the German national team play in the best teams in the world and Chelsea is one of the best teams. So it's good for the national team too."