Tito Vilanova: Ex-Barcelona coach could not 'devote 100%' to job
Last updated on .From the section Football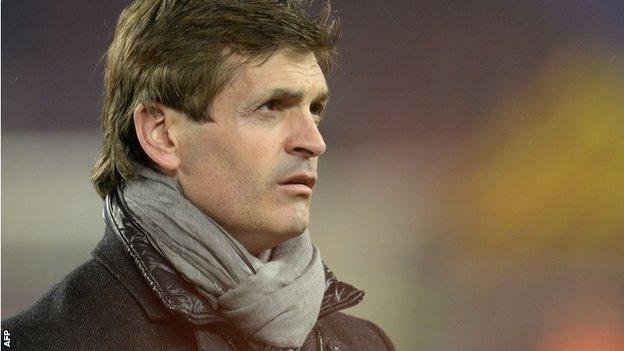 Tito Vilanova says he stepped down as Barcelona coach because he could not give his full commitment to the job.
Vilanova had surgery in December 2012 and was given chemotherapy and radiotherapy before returning in March to see his side
"With the treatments I must follow from now on, I cannot devote 100% to the tasks of head coach," he said.
Vilanova, who replaced Pep Guardiola as manager in June 2012, thanked the Barcelona players and staff for their support and said he would continue to work for the club.
In an open letter published on the club's website, he added: "After five wonderful years as part of a team that has made dreams come true for any coach, it's time to face a change in my professional life and focus my energy on continuing to fight the disease I was diagnosed with a year and a half ago.
"It is not easy to leave this very special group of players, fellow staff and friends with whom I shared many memorable experiences."
Barcelona said they expect to announce a successor within a week.
Reports in Spain suggest Joan Francesc Ferrer, known as Rubi, could replace Vilanova in a caretaker capacity.