Manchester United's Darren Fletcher to miss start of season
Last updated on .From the section Football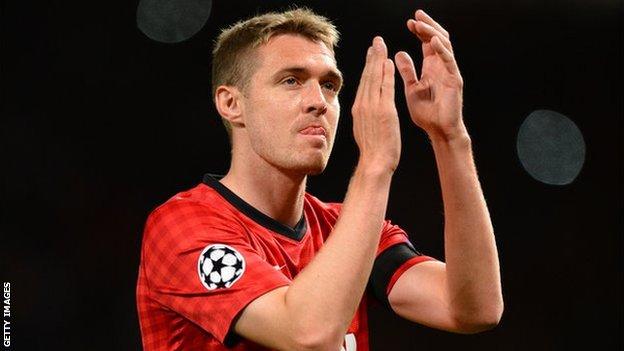 Manchester United midfielder Darren Fletcher is stepping up his recovery after a bowel operation but expects to miss the start of the season.
Asked when he would be back, Fletcher told BBC Radio 5 live: "Hopefully, not too long after the start of the season.
"I think I will just miss the beginning of the season."
Fletcher had to take an extended break from the game in December 2011 because of the chronic bowel disease, and it flared up again 12 months later.
"I've had it for five years but really struggled to control it for the last three years," said the Scotland captain. "It's had a big impact on my day-to-day life, never mind trying to play football.
"Medication wasn't helping me but surgery was the only solution if I wanted to have not only a future playing football but even a quality of life going forward.
He added: "It's all going well. I am still under the hands of the medical team just now and the surgeon who is looking after me. Everything is going to plan so far and I am not that far away now.
"I am doing exercise on my own. I've not been given the green light to join in contact in football training but I am doing my own running and physical activities and feel great. Hopefully, in the next few weeks I am going to get the green light to join in and to start making the comeback, which is looking very good."
Fletcher had been hoping to be ready in time to play in Scotland's match against England on 14 August at Wembley, but he concedes that will not now be possible.
The match will be sandwiched in between the Community Shield on 11 August and the start of the Premier League campaign on 17 August.
Fletcher was quick to reject any idea there will be many withdrawals from the Scotland camp because of the scheduling.
"From the Scotland side of it, [England] is the game that you want to play in when [you] are growing up.
"Maybe England might have a few call-offs but I definitely know in the Scotland camp we won't have many call-offs. I know all the lads will desperate to play in that match.
"It's been so long since we have played against England. Everyone has grown up with stories from their parents or people in football about the old games at Wembley and the old Home Nations matches and how fierce they were.
"Definitely in the Scotland camp we are looking forward to it."