Hope Powell says England's women need more investment
Last updated on .From the section Football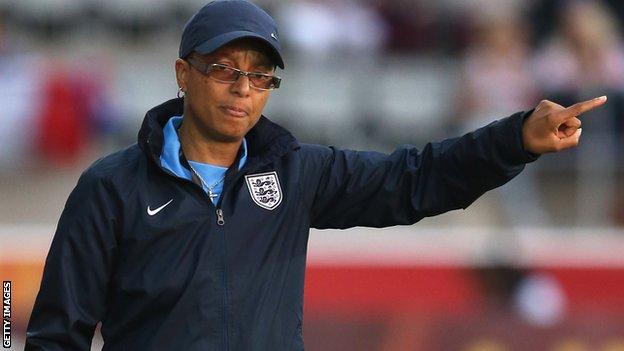 England manager Hope Powell says the domestic game needs more investment if the national team is to compete with France and other leading nations.
Powell believes it is difficult for her part-time players to compete against their professional French counterparts.
But striker Toni Duggan says England cannot use France's full-time set-up as an excuse for their early exit.
"We need to be prepared maybe to invest more if we want to compete with the likes of France," Powell told BBC Sport.
The Lionesses finished bottom of Group C after being outclassed by Bruno Bini's side in Sweden on Thursday. They lost 3-2 to Spain and drew 1-1 with Russia in their two previous group games.
England, who were ranked seventh in the world before the tournament started, were hoping to be crowned European champions after finishing runners-up in 2009.
France are ranked fifth and are among the favourites to win Euro 2013 ahead of their quarter-final against Denmark on Monday.
Seven of their starting XI against England play for Lyon, who have won the French title in each of the past seven seasons.
They were also crowned European champions in 2010-11 and 2011-12, before losing 1-0 in the final against Wolfsburg last season.
"Since 2011, France have had quite a lot of investment," said Powell. "They are full-time and a lot of their players play for Lyon and are full-time athletes. So it's very difficult to compete against.
"If I look at Lyon they probably train five times a week. If I look at some of our Women's Super League clubs, we're not to that standard. They have had a massive shift in the culture of women's football."
Everton striker Duggan, who started against the French after scoring as a substitute against Russia, admits she felt disadvantaged against the full-time French side.
"They were fitter, sharper and they were stronger - that comes from being full-time and professional," said the 22-year-old. "We train twice a week with our clubs so the difference was there.
"But look at the likes of Russia and Spain, they are probably in a same situation as us and still we failed to take any points from them.
"We can't just point the finger at that [final] game and say 'because France are professional that's why we lost the game'. It's a major point we can look at, but I don't think we can use it as an excuse."