Copa Libertadores final: Olimpia defy odds to lead cup final
Last updated on .From the section Football83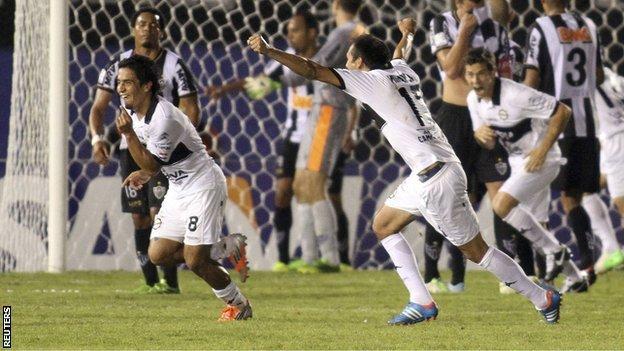 Players come and players go - especially in South America, where the constant selling means that teams are constantly rebuilding. Even so, it is still possible for clubs to preserve an identity, with lasting characteristics.
Take Olimpia of Paraguay, currently contesting the final of the Copa Libertadores with Atletico Mineiro of Brazil. There really should only be one winner. Olimpia's entire wage bill would struggle to pay Ronaldinho, Atletico's star - let alone a supporting cast which includes new sensation Bernard, Jo from the Confederations Cup squad, former World Cup winner Gilberto Silva and a number of other big names.
In financial terms it should be a walkover, especially as Olimpia are deep in crisis. Their players recently went months without being paid, and they were forced to sell captain and best player Richard Ortiz before the Libertadores semi-finals in order to receive a short-term injection of cash.
Before the tournament no-one gave Olimpia a hope. Of Paraguay's three sides, they looked by some distance the weakest. Libertad, quarter-finalists in each of the previous three years, looked far stronger - and started off like a train before suddenly imploding.
Cerro Porteno appeared to have a squad every bit as impressive as the one which reached the 2011 semi-finals - but they started badly and got worse. Olimpia had done nothing in the competition for a decade. Their domestic form was average - they had to go through the qualifying round to make it to the group phase. There was no indication that they could be title challengers.
But there is one thing the club possesses in spades - tradition. They have won the Libertadores three times - only four clubs have more titles to their name. It gives them a certain mystique.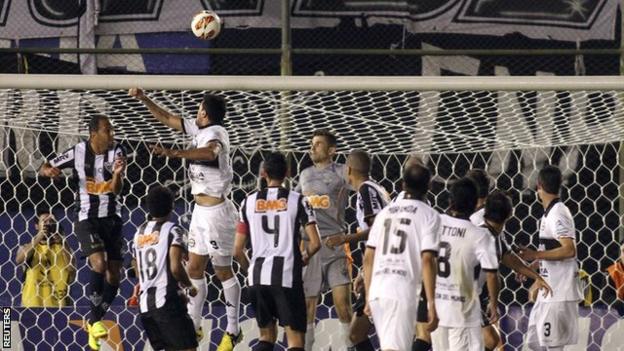 In last Wednesday's first leg of the final they were a goal up in front of their own fans going into second-half stoppage time. They won a free-kick on the edge of the area. Bruno Pont, match commentator for a local station, told his listeners to "turn up your radio like you want to scream". Little playmaker Wilson Pittoni dinked over the wall. Atletico's Alecsandro read his intentions, and back-pedalled furiously to cover the near post - but he could not get enough height to block the chip, and all he did was get in the way of goalkeeper Victor.
As the ball nestled in the back of the net, Bruno Pont let rip. "Olimpia!" he screamed over and over, throwing in a swearword for extra emphasis. "When they began their Libertadores campaign, who said that Olimpia could win their fourth title? And it's so close, my God! How big you are, Olimpia! How much pride you give Paraguay!"
Olimpia coach Ever Almeida, a club legend as their former goalkeeper, is not thrilled that their first-leg lead is being attributed mainly to the force of tradition. "We won with football," he said, "and not because of the importance of our shirt."
He has a point. Olimpia are sitting pretty in the final entirely on merit. They have scored plenty of goals all through the campaign. One of their strengths is the way that Almeida can tweak the system every time the team is in need of a goal.
And against the firepower of Brazilian opponents he can also tweak his defence - last week, just as in the home leg of the quarter-final against Fluminense, he traded his usual three centre-back formation for the extra defensive solidity of a back four. His side can defend with discipline, and attack with pace and purpose.
Uruguayan keeper Martin Silva has had an excellent campaign. And his compatriot and namesake Alejandro Silva is an interesting, versatile player who opened the scoring last week with a Gareth Bale-style goal. But there are not too many world beaters in the Olimpia squad. The one real prospect was Richard Ortiz - who, as we have seen, was sold to help balance the books. The players at Almeida's disposal are mostly journeymen.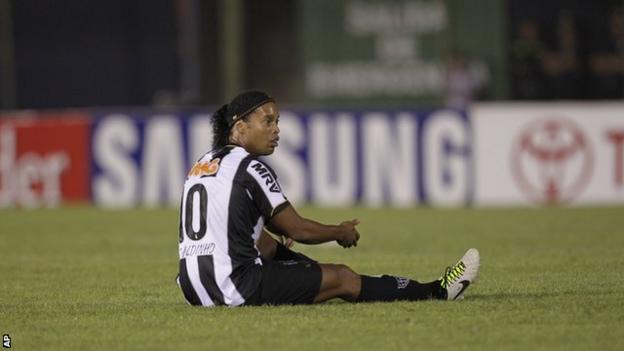 And so here is the key question. Would such a team be in contention for the title if they were wearing another shirt? Because it is undeniable that part of the force of Olimpia's progress comes from the club's past.
Those titles, the proud nickname of 'the cup kings,' the expectation of success that is transmitted from the terraces - in some cases this can intimidate teams and cause them to buckle under the pressure. In others it can inspire - the past sets up a vision of what is possible, which the players then strive to emulate in the present. This would seem to be the case of Olimpia in 2013.
Of course, the title is not theirs yet - not by a long way. The away goals rule is not in operation in the final. Atletico have 90 minutes to chase a two-goal deficit, with extra-time should aggregate scores be level.
Ronaldinho surely cannot give a performance as appalling as last week's, when he was hauled off early in the second half. Bernard is back from suspension. The Mineirao stadium in Belo Horizonte will be heaving for the biggest night in Atletico's history.
Olimpia's chances are probably no better than 50-50. But whatever happens on Wednesday night, to have overcome such obstacles and lived up to the club's tradition in such style makes Olimpia the stand-out story of the 2013 Copa Libertadores.
Comments on the piece in the space provided. Questions on South American football to vickerycolumn@hotmail.com, and I'll pick out a couple for next week.
From last week's postbag:
Q. My question concerns the transfer speculation surrounding Eduardo Vargas to my club Middlesbrough. I didn't manage to catch him and his performances for Universidad de Chile, but after his initial unsuccessful spell at Napoli I've seen him for Gremio and was impressed. Seems like his pace and skill would be an asset and I think at the Championship level he could be a success, and if he does well could have a decent re-sell value. Interested to see what your take on the player is and whether it's likely he could come to the Boro and if he could succeed.
Liam Frank
A. He certainly is a quality player. Two years ago he was tearing defences apart every week for Universidad de Chile. I'm a bit mystified by his failure to settle at Napoli - though he can be hot headed and petulant on the pitch, so perhaps he lacked the necessary maturity. He's still under contract with them, and is with Gremio on loan. Now Napoli have a Spanish-speaking coach, Rafa Benitez, it wouldn't be a surprise if they think he's worth another try.
In terms of a move to Middlesbrough, then, I wouldn't hold your breath on this one - I really don't think it's likely that he'd want to drop out of a first division, whether it is England or anywhere else.