Bournemouth v Real Madrid: Eddie Howe hails special day
Last updated on .From the section Football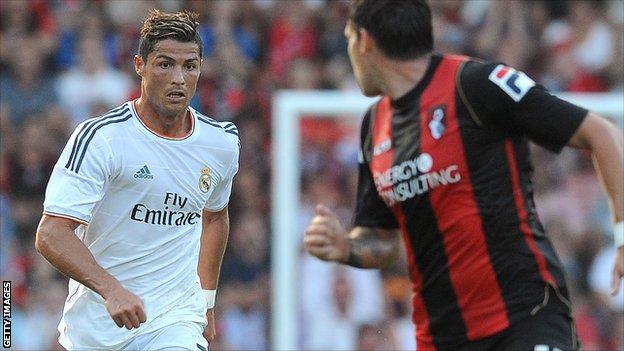 Bournemouth manager Eddie Howe believes the visit of Real Madrid to Dean Court on Sunday will live long in the memory.
The Cherries were in Sunday's friendly, but Howe feel it is a game than will be remembered with fond memories in 20 years' time.
"It's not every day you get Cristiano Ronaldo at Dean Court," said Howe.
"Some great players have graced this stadium and he, along with all the other superstars of Real Madrid, will be talked about for a long time."
Howe, who steered the Cherries to promotion into the Championship last season, added: "It will be something very special to look back on.
"There are fans who have endured the really tough days here, so this was a special day for them.
"The club has been through so much in recent years, had a really good year last year and have now reached the Championship, which is going to be a really tough season.
"These are good days for the club and hopefully everyone will enjoy this year because it is rare this club has ever played at this level, so everything is positive."
The Cherries started strongly and more than held their own for the first 20 minutes before the goal rush began and, despite the quality of the opponents, Howe revealed his dressing room was still an unhappy one at the final whistle.
"The feeling after was disappointment," he said. "No-one wants to get beaten and no-one wants to lose.
"It is a horrible feeling no matter who you lose to. We are not downhearted but we are disappointed.
"From our perspective we knew it was going to very difficult and we didn't want to change anything too much, so we could test our players with our style of football.
"It was a great experience for our lads."
The Cherries lost striker Brett Pitman through injury but Howe hopes his hamstring injury will not be too serious. He also praised the attitude of Sunday's opposition.
"Their attitude was excellent," said Howe. "They wanted to win and do it right and our lads need to look at that as a marker."