Fifa lifts a global ban on Cameroon for government interference
By Leocadia Bongben
BBC Sport, Yaounde
Last updated on .From the section Football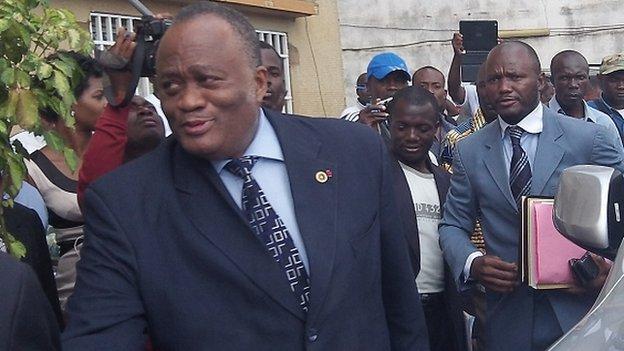 Fifa has lifted its global ban on Cameroon after a normalisation committee began its work on Monday to run the country's football federation.
It is being headed by former Minister of Education, Sports, Joseph Owona.
Earlier this month, Fifa banned Cameroon for governmental interference into the running of the country's football.
The condition for the lifting of the ban was that the committee was allowed to begin work.
Fifa said in a statement: "As requested by the Fifa Emergency Committee, the normalisation committee that was appointed on 20 July 2013 was able to take up its duties this Monday... at the Cameroon Football Federation (Fecafoot) headquarters, with Fifa and Confederation of African Football (Caf) observers present.
"The lifting of the suspension means that Fecafoot's clubs, officials and other representatives can immediately resume their activities, which had been interrupted."
The normalisation committee will be working under the supervision of Fifa's Primo Carvaro and Caf representative Prosper Abega.
Cameroon will now be free to play their crucial 2014 World Cup qualifier away to Libya in September, with the winner advancing to the final play-off round.
Meanwhile, club side Coton Sport will also be allowed to continue their African Champions League campaign - having failed to take part in their opening Group B match this weekend because of the ban.
The move follows a recent visit to meet Fifa president Sepp Blatter by a delegation from Cameroon that included current Sports Minister Adoum Garoua.
The normalisation committee will now act as the electoral body and will revise the statutes of the Cameroon Football Federation (Fecafoot).
It will also organise federation elections to be held by 31 March next year.
Members of the committee will not be eligible for any of the open positions at Fecafoot.
There had been confusion within Cameroon football before the ban with federation elections postponed on several occasions.
When the elections did go ahead, Iya Mohamed was re-elected president despite the fact he is being detained by the authorities in Cameroon.
He is being investigated after being accused of embezzling money at state-owned Cotton Development Company.
Soon after the election results were announced, Fecafoot's elections appeals committee declared them void.
In the aftermath, John Begheni Ndeh announced himself head of the federation and started work with the help of police, which was deemed as political interference by Fifa.
Normalisation Committee Members
President: Joseph Owona - former Minister of Education, Sports and experts on constitutions
Vice- President: Emmanuel Ngassa Happi - President of the Committee for professional side Union Douala
Members:
Michel Kaham - former indomitable Lion, Director of Kadji Sport Academy,
Ebenezer Mouloke - former director of norms at the Ministry of sports and Physical Education,
Ephraim Gwafor - former Minister and Rector of the University of Yaounde II
Owona Pascal Bialong - former Indomitable Lions captain, and ex-president of Fecafoot
David N'Hanack Tonye - Lawyer, former Secretary-General of the Ministry of Sports and Physical Education
James Moungue Kobila - Lawyer, head of law department university of Douala
Jonathan Fombe - Lawyer
Amadou Evele - Lawyer, former Director of Semry
Adolphe Minkoa She - Lawyer, faculty of political sciences University of Yaounde II