Fifa issues ban warning to Uganda
By Andrew Jackson Oryada
BBC Sport, Kampala
Last updated on .From the section Football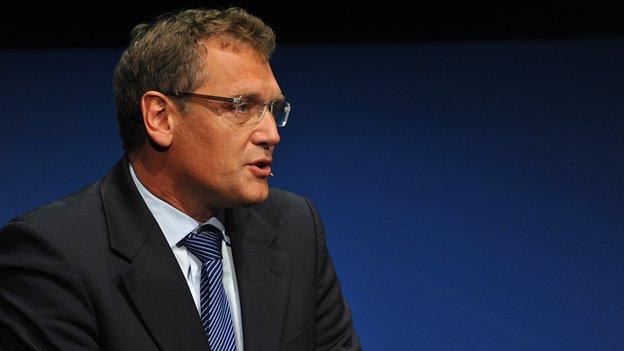 The Uganda football associaton (Fufa) has been warned by Fifa that it faces sanctions including a possible global ban from the sport for government interference.
Football's world governing body has sent a letter to the Uganda government on the issue.
"Any actions/measures taken unilaterally against the structures and/or the statutes of Fufa would be considered as interference," the letter stated.
"The case would be brought to Fifa's higher instances for appropriate sanctions, which could include suspension."
The letter is signed by Fifa's Secretary General Jerome Valcke who was responding to a letter sent last week by the Uganda Minister for Education and Sports, Jessica Alupo Rose Epel.
The minister was asking to meet with Fifa in order to discuss the legality of Fufa, indicating the government wanted to take certain measures but needed clarification first.
She says Fufa has operated as a private company since 2009 which is inconsistent with Ugandan law.
"We would like to remind you that all Fifa member associations have to manage their affairs independently and without influence of any third parties as clearly stipulated in articles 13 and 17 of the Fifa Statutes," said Valcke's letter.
The letter explained that the legal status of Fufa had already been debated in 2012.
That's when the federation had informed Fifa that according to the local laws, the national football body had to be registered as an association and a limited company if such a body wanted to own properties.
He said the National Council of Sports (NCS), the country's sports regulator, explicitly confirmed that they had no problems whatsoever on the status of Fufa Ltd.
Regarding the request by the minister Valcke's letter indicated that a meeting would be possible but only if the situation concerning Fufa's legal status is fully clarified.