England v Scotland: Gordon Strachan eyes regular fixture
Last updated on .From the section Football194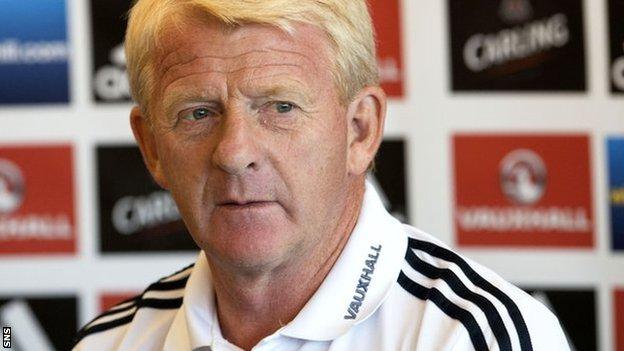 Scotland manager Gordon Strachan would like to see the return of a regular fixture against England - with cash raised going to grassroots football.
Strachan's squad face the Auld Enemy in a friendly at Wembley on 14 August.
Asked if the two football associations might agree to a more regular meeting, he said: "A lot of people would like it to be more regular, that's for sure.
"I think we could use it, the money generated could go into grassroots football, both sides of the border."
As he , Strachan added: "I think players would love it, I think fans would like it and I think grassroots football would benefit from that."
A century of meetings in the British Home Championship came to an end in 1984, with five more being part of the Rous Cup, which involved guest teams instead of Northern Ireland and Wales.
Strachan recalled being at Wembley - on his honeymoon - in 1977 for a 2-1 win there that led to a famous pitch invasion by victorious Scottish fans.
"There's a bit of turf in some house in Broughty Ferry in Dundee that somebody doesn't know has actually come from Wembley," he said.
"I was invited on the pitch actually, by a policeman, because me, my wife and my best man were the only three on the terracing and he just looked at us and said, 'on you go, you might as well', so we joined in."
Since 1989, there have been three meetings between Scotland and England, all in European Championship qualifying or finals, the last being a 1-0 win for the Scots at Wembley in 1999.
"I'm lucky in that not too many people go down there and manage a national side at Wembley against England," said Strachan.
"It is a special occasion for everybody. I am going to enjoy it as a manager.
"I was there as a supporter - I was there on my honeymoon actually - and I was there in 1996 and I've enjoyed every occasion so far and I hope to enjoy this one as well."
With at least 20,000 Scotland fans due to travel to London for the latest fixture, Strachan highlighted the role the supporters can play in inspiring his team.
"I've supported, I've played and now I'm going to manage and I know it has to be a collective attack," he said.
"We will be ready as a group - the supporters, the players and the staff."
Strachan is sure his players will be aware of how important the fixture will be back home despite it being a friendly.
"I think they'll find with the build-up and the expectation and the people around about them and relatives how big it is," said the Scotland manager.
"Whether you are playing table tennis or anything against England, it is an occasion when we have to win."
The Scots will arrive at Wembley to face a side 35 places above them in the world rankings buoyed by their 1-0 win over Croatia in their last World Cup qualifier.
Strachan believes he has found a formula for success away from home but says he now has to look for a strategy to ensure home victories - and could use Wembley as a test bed.
"We can't really say this is an away game as such as the fans will want to see us attacking, that's for sure," he explained.
Meanwhile, Vauxhall has extended its sponsorship of the national team for a further four years, taking the "multi-million pound investment" up to 2018.