Gerardo Martino: New Barcelona coach right fit for Spanish club
By Andy West
Spanish football writer
Last updated on .From the section Football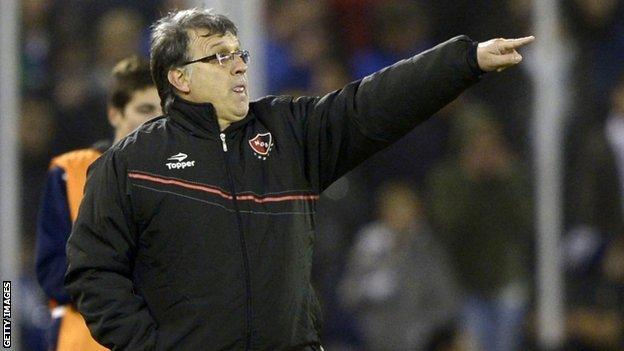 Despite moving to Barcelona more than a decade ago, Lionel Messi has retained a great love for his first club - Newell's Old Boys, based in his home town of Rosario, Argentina.
Last season, Messi was able to savour his beloved Newell's winning the Argentine Torneo Final (the league half-season title) and progressing to the semi-final of the Copa Libertadores, South America's premier club competition, where they were knocked out in a penalty shoot-out by Ronaldinho's Atletico Mineiro.
A delighted Messi was sufficiently moved to heap praise upon Newell´s coach, enthusing a few months ago: "He is great. I've seen what he's achieved with the team. He's got them playing well and everyone respects him."
Messi certainly could not have foreseen it at the time, but that coach - Gerardo "Tata" Martino - is the new manager at the Nou Camp after agreeing a two-year contract to succeed Tito Vilanova.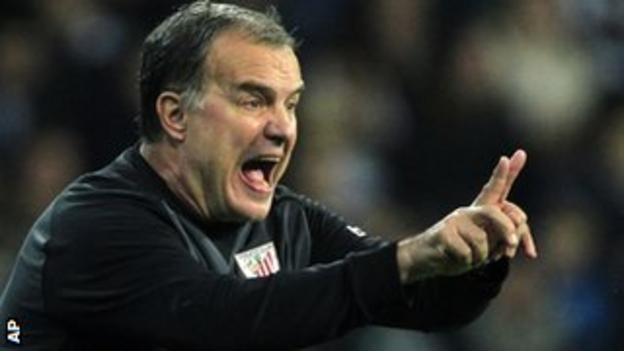 Although Martino's appointment will come as a huge surprise to many fans across Europe, on closer inspection it is an entirely logical choice. For starters, Martino is already a household name in South America - hence the great respect he commands from Messi.
Before his recent successes with Newell's (named after Isaac Newell, an English immigrant who played a key role in their formation in 1903), Martino enjoyed a distinguished spell in charge of the Paraguayan national team, leading them to the last eight of the 2010 World Cup finals and the final of the 2011 Copa America, where they were well beaten by a Luis Suarez-inspired Uruguay.
Their World Cup run in South Africa was eventually ended by Spain, but only after a closely-contested struggle which saw Iker Casillas save a Paraguay penalty before David Villa netted a late goal to secure a 1-0 victory for the eventual world champions.
Martino's disciplined preparations for that game made a lasting impression on his opponents, with Spain and Barcelona midfield star Xavi later describing the encounter as the toughest faced by his team in the whole tournament.
Taking that into consideration and last season's successes in Argentina, it is no surprise that Martino had already attracted serious attention in Spain earlier this summer - both Malaga and Real Sociedad approached him about their vacant managerial positions.
Just as important as his past achievements, though, is Martino's favoured style of play, which provides a perfect "fit" with Barca's prevailing philosophy.
Martino's greatest influence as a coach is another Rosario native, the enigmatic Marcelo Bielsa (nickname: "El Loco" - The Mad One), who started his managerial career by twice leading a Newell's Old Boys team (yes, them again) containing Martino to the Argentine title in the early 1990s.
His time under Bielsa's charge was relatively brief - less than two years - but the lessons learned stuck with Martino and provided the foundations for his beliefs when his coaching career got under way nearly a decade later.
The common link between Bielsa and Barcelona - and the reason why Martino is a logical appointment at the Nou Camp - can be found in the fact that Bielsa's high-tempo, hard-working pressing and passing game was largely based on (albeit not directly copied from) the "Total Football" methods of the great Netherlands and Ajax teams of the 1970s and 1990s.
And Total Football's biggest inspiration was Johan Cruyff, who subsequently implanted those methods at Barcelona when he was appointed boss at the Nou Camp in 1988.
Furthermore, one of Bielsa's biggest devotees is Pep Guardiola, who assiduously researched El Loco's coaching methods and playing strategy before moving into management (with Vilanova as his assistant) at Barcelona in 2007, having initially been mentored by his first boss at the Nou Camp… Johan Cruyff.
So Cruyff influenced Bielsa and Guardiola, and Bielsa influenced Martino and Guardiola… ultimately, all roads lead back to Johan Cruyff.
And we can therefore expect little to change in Barca's playing style under their new manager, although he is likely to insist upon a return to a more intense style of pressing, an element of their game that was judged to have been somewhat eroded last season.
By appointing an outsider who has very little first-hand experience of Spanish football, having had a brief playing spell at Tenerife in 1991, Barca have veered away from their preferred recent policy of appointing from within.
But they certainly have not deviated too far from the beaten path. Gerardo "Tata" Martino may not be a Guardiola or Vilanova replica, but his Total Football/Marcelo Bielsa roots ensure he is certainly chiselled from the same stone.
If you are expecting a new manager to signal a change in playing style, think again: Martino's task will be to lead Barcelona in the same direction they have followed for the last few years.
Tika-taka is here to stay.