Cardiff City: Tan & Langston reach "amicable resolution"
Last updated on .From the section Football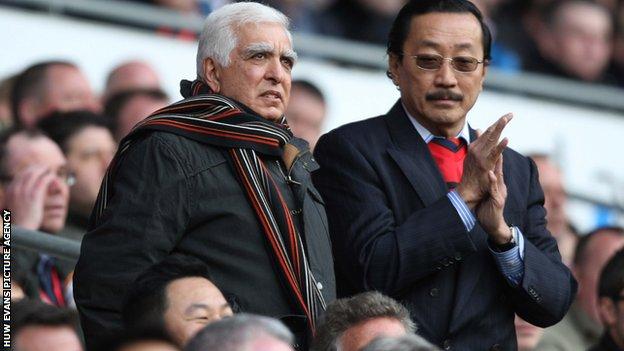 Cardiff City and creditors Langston Corporation have announced "an amicable resolution" to the longstanding debt issue at the club.
Cardiff City owner Vincent Tan said he was "grateful and indebted" to former owner Sam Hammam for reaching a settlement.
The debt to Langston - whose spokesman is Hammam - is thought to be about £24m, lent to the club in 2004.
Hammam will become a life president at the club as part of the deal.
Cardiff stated that the resolution was "a historic occasion" for the newly-promoted Premier League club.
Tan said the Bluebirds were "days away" from an agreement with creditors Langston which would result in the club becoming debt-free on Thursday, 18 July.
He has proved as good as his word as the Championship title winners prepare for their first season in the Premier League.
Hammam is understood to have brokered a one-off lump sum payment and agreed a schedule of payments with the club, while his representative Michael Filiou will take a place on the Cardiff board.
"I am grateful and indebted to Sam Hammam, Michael Isaac and Michael Filiou for their part in this resolution, which brings to a close a lengthy period of uncertainty," said Tan.
"This settlement allows us to look to a new era of financial stability, which should be celebrated by all connected to Cardiff City.
"I am delighted, primarily for the supporters of this great club that we can put this matter firmly behind us and plan for our future with confidence."
Tan had claimed the deal was "in Sam's hands" and says his total investment in the club so far would be about £120m.
Tan has also claimed he could convert all his loans to equity and "make the club financially much more secure and hopefully debt-free".
Tan and Hammam claimed he had agreed the deal so Cardiff's sole focus could be on building for the club's forthcoming Premier League campaign.
"This resolution will rightly be regarded as a proud and historic occasion for all associated with Cardiff City Football Club," said Hammam.
"Now that an amicable agreement has been reached, thanks in most part to the vision of Tan Sri Vincent Tan and the important role of Michael Isaac and Michael Filiou, the club can now focus on the exciting Premier League season ahead, while building for the future with optimism."
Tan has admitted he was studying the possibility of floating part of the club on the Malaysian stock exchange to bring in the country's shareholders who would be friends and supporters of Cardiff.