Former Kilmarnock defender Garry Hay keen to keep playing
Last updated on .From the section Football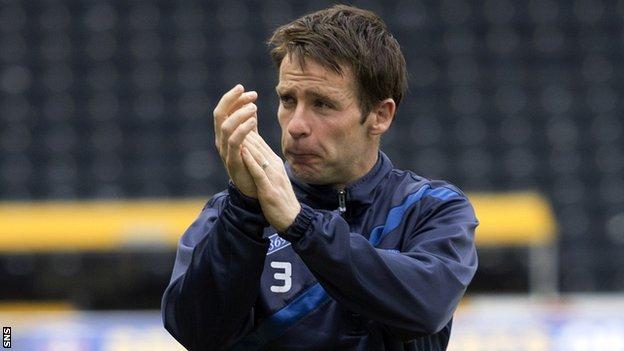 Defender Garry Hay believes he still has "a year or two left" as he seeks to find a new club.
around the same time as management team Kenny Shiels and Jimmy Nicholl.
And Hay has ruled out a coaching role at Rugby Park, where Allan Johnston has been appointed as manager.
"Going back isn't an option," said Hay. "I haven't heard from the new management at the club and I don't expect to. I'm looking forward now."
Hay has spent his entire career with Killie, featuring as a regular between 1999 and 2013.
"There are no hard feelings or grudges with Killie," he explained. "With Kenny parting ways and Jimmy Nicholl leaving too, it was always going to be very difficult after that.
"I'm still doing stuff coaching some of the younger lads at pro-youth level.
"It's been pretty quiet on the football side of things. I still have haven't got anything lined up. A few managers have taken my number but there has been no offers so far.
"I'm not really surprised that it's been like this, though. There are lots of boys out of contract right now and there are plenty of players available for managers to choose from.
"I'm a bit older and maybe coaches aren't looking for someone as experienced as I am. It's just one of those things.
"I'd like to get in somewhere and get started with training. I've still got a year or two left in me fitness wise.
"If it doesn't happen I'll just have to live with it, but I know in myself that I've still got a year or two left in me at a decent level."
And Hay is keen to remain in the game after his playing days are over.
"I'm interested in the coaching side of things and I've done all my badges," he added.
"I just want to stay in the game. Football is all I have known."