Joseph Owona calls for unity in Cameroon
By Leocadia Bongben
BBC Sport, Yaounde
Last updated on .From the section Football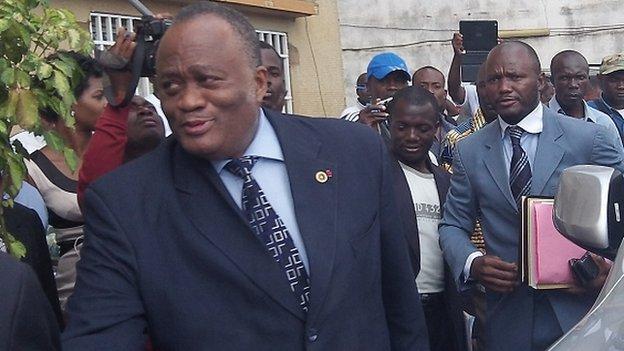 The President of Fifa's normalisation committee in Cameroon, Joseph Owona, has called for everyone involved in football in the country to unite.
Owona, a former Cameroon Minister of Education and Sports, is leading the committee, whose job is to act as the electoral body and to revise the statutes of the Cameroon Football Federation (Fecafoot).
The installation of the committee meant Fifa lifted its global ban on Cameroon which was in place because of government interference in football matters.
And Owona wants everyone involved in the sport in Cameroon to take the opportunity to build a new future.
"Let us stop being a disunited federation, cursed in the world of football, embedded in quarrels rooted in bad governance, champion of sordid and underground manoeuvres," he said.
"This federation frustrates Cameroonians, shocks its players and coaches, deprives Cameroonians and the world of the good spectacle of the Indomitable Lions that once seduced and was already carving a niche for itself in the circle of big football nations.
"Let us become a federation of Cameroon football that is worthy of the aspirations of the public and football lovers."
Owona hailed the quality of members in the normalisation committee, who he described as experienced men who merit the confidence of Fifa and Caf and the Cameroon government.
It is against this backdrop that he urged Cameroonians and football lovers to have confidence in the committee that has pledged to succeed in the task ahead.
Besides organising an electoral process that is transparent, fair and equitable, the normalisation committee must also manage the daily affairs of the federation.
It has eight months and two weeks to run the daily affairs of the federation, to revise the statutes and conduct elections from the base to the federal level - with a deadline of March 2014.
"Together, let us overcome the diverse challenges and uphold patriotism, the Olympic spirit and the principle of fair play, " Owona said.