Peterborough United and council end ground dispute
Last updated on .From the section Football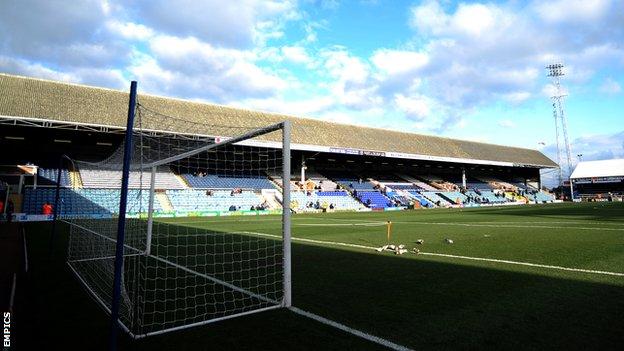 Peterborough United and the city council have ended their rent disagreement, with the prospect of London Road receiving a £1m upgrade.
Posh refused to pay their £500,000 rent to Peterborough City Council last term.
But in a new proposal, the club will reduce its rent to £300,000 per year, while the council has asked members to approve the allocation of £1m towards ground development.
The money will fund an improvement of the London Road end.
Council members will vote on the plan on Wednesday, 31 July, with little opposition expected.
The club sold London Road to a property developer in 2003, who in turn sold it to the council for £8m three years ago.
Posh chairman Darragh MacAnthony has been fighting for a reduced rent and refused to pay for the past 12 months.
The club had reportedly weighed up
MacAnthony said on Twitter: "Hopefully once this new deal with council gets the go ahead we can focus on getting back to Championship ,then on buying [London Road] back & so on."
Chief executive Bob Symns added: "This marks a unique milestone in the history of the football club and will also show a long-term benefit for not only the club but for the local community, its people and the business sector as a whole."
There have been which would include installing a further education facility - known as a STEM Centre - costing £9.5m and funded through a combination of a central government grant and private finance.
The extra £1m from the council would see the London Road terrace become all-seater, a requirement should the club have aspirations of winning promotion from League One back to the Championship.
As part of a new 25-year lease Posh's rent will increase to £380,000 per year when the Moy's End work is complete, with construction expected to begin in September, and the council will be due £430,000 a year when both stands are finished, thought to be by the start of the 2015-16 campaign.
Posh will pay the past 12 month's rent at the new rate of £300,000.
The council will reclaim some of the land around the stadium to build houses and the club will have first refusal to buy the ground back over the next 10 years.