James Alexander Gordon to retire as football results reader
Last updated on .From the section Football170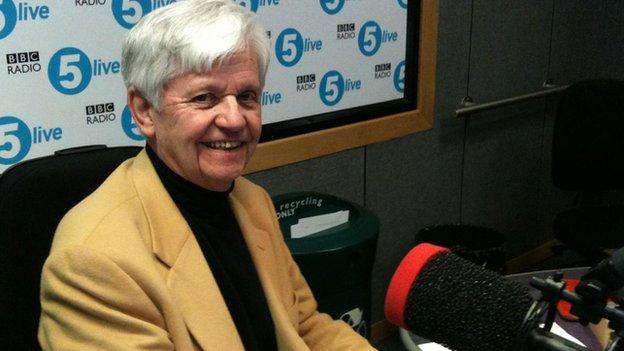 James Alexander Gordon, one of the most recognisable voices in British broadcasting, is to retire after 40 years reading the classified football results on BBC radio.
He recently had surgery to remove his larynx after being diagnosed with cancer and his voice is no longer strong enough to broadcast.
"It's with great sorrow that I have to give up the most exciting part of my career, the classified football results," said the 77-year-old Scot. "They have been my life."
Richard Burgess, head of BBC Radio Sport, described Gordon as a "broadcasting legend", while Mark Pougatch, presenter of Radio 5 live Sport, said: "Even people who don't really even like football knew who James was, even if they didn't realise it."
Gordon began reading the classified results in 1973.
His distinctive Scottish accent and unique style attracted an army of followers, including comedian Eric Morecambe.
Gordon even had a Cornwall-based fan club and still receives tens of letters every week, with a large proportion coming from members of the British Armed Forces serving their country across the world.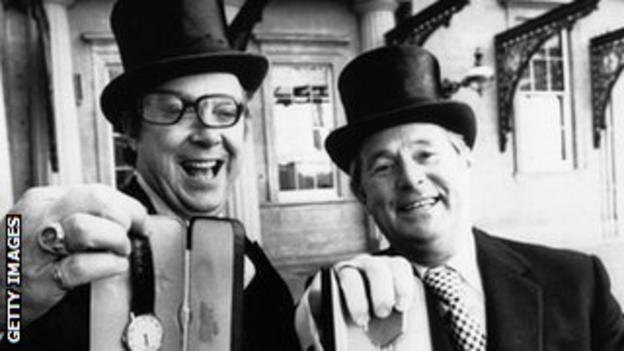 Born in Edinburgh in 1936, Gordon, who contracted polio when he was six months old and spent a lot of his childhood in hospital, worked in the music business before joining radio, promoting the likes of Bert Kaempfert and James Last.
In 1972, he joined the BBC, reading the news and presenting various programmes on Radio 2 - even Newsbeat on Radio 1 - before his break came reading the classified football results.
"I was terrified at first, but I put my heart and soul into it and have loved it ever since," said Gordon, who lives in Berkshire and is married to Julia, with a son, David, and grandchildren, Molly and Martha.
"Such fun getting it right. The most important thing, though, has been making it exciting for the listener.
"I want to thank my producer of some 30 years, Audrey Adams, whose love of sport and determination to get it right has made all the difference.
"How proud I am that I have served the very best of BBC radio sport, albeit in a small way with the classifieds, and I know that the great team will continue to present the best in radio sport coverage."
Pougatch commented: "Such was his unique style of reading the classifieds, his wonderful inflections and stresses, that even non-believers of the sport knew the result after the home team's score.
"Nobody else will be able to say 'Wolverhampton Wanderers' with quite such mellifluous tones."
Burgess added: "This is desperately sad news for everyone at BBC Sport and we know our sadness will be shared by many millions of listeners.
"For so many of us, James has been a mainstay in our lives - a reassuring and reliable presence every week.
"It's not an exaggeration to say that Saturdays at 5pm will never be the same again without the warm, melodious sound of his voice, just after the Sports Report theme on BBC Radio 5 live."